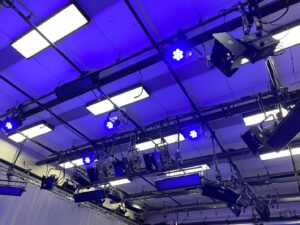 Mount Wachusett Community College is the recipient of an Energy Initiative rebate from National Grid for upgrades to lighting in the colleges' two video recording studios. The $43,216 rebate payments from National Grid will enable MWCC to reduce kilowatt-hour energy consumption in the studios by 91.2% per year.
Enrollment in the video concentration of the Media Arts and Technology degree program is growing, and the installation of these lights will positively change the curriculum to include more content in television and theatrical lighting using the latest technology. These new lights are far safer to use and more versatile than the previous lights, create little to no heat, and can change color and focus using external computer controls.
"The MWCC audio studios are state-of-the-art, and with this new lighting, our video studios are now their equals," stated Media Arts and Technology Department Chair John Little. "Students from all over New England come to the Mount for this program and the opportunity to learn hands-on with this equipment."
The video studio upgrades include change from fluorescent and tungsten fixtures to LEDs installed by Chauvet Professional, a leading developer of luminaires, trussing, controllers, atmospherics, and related equipment, and Fluotec, a leading manufacturer of LED and professional lighting fixtures for television studios, motion pictures, video and photography. Studio A is used for photography and TV production, while Studio B is primarily used for TV production.  Both studios are used for sound recording performance areas.
The Media Arts and Technology Associate degree program at the Mount offers applied and theoretical instruction for students interested in a career in media production.  Emphasis is placed on practical training in MWCC's professionally equipped media facilities, communication skills, and the characteristics of converging media industries.  Students gain professional experience participating in a variety of college and community projects and can choose production elective courses from a variety of disciplines including video/film production, audio engineering, photography, and media communications. To learn more about this program, check out the Media Communications page.