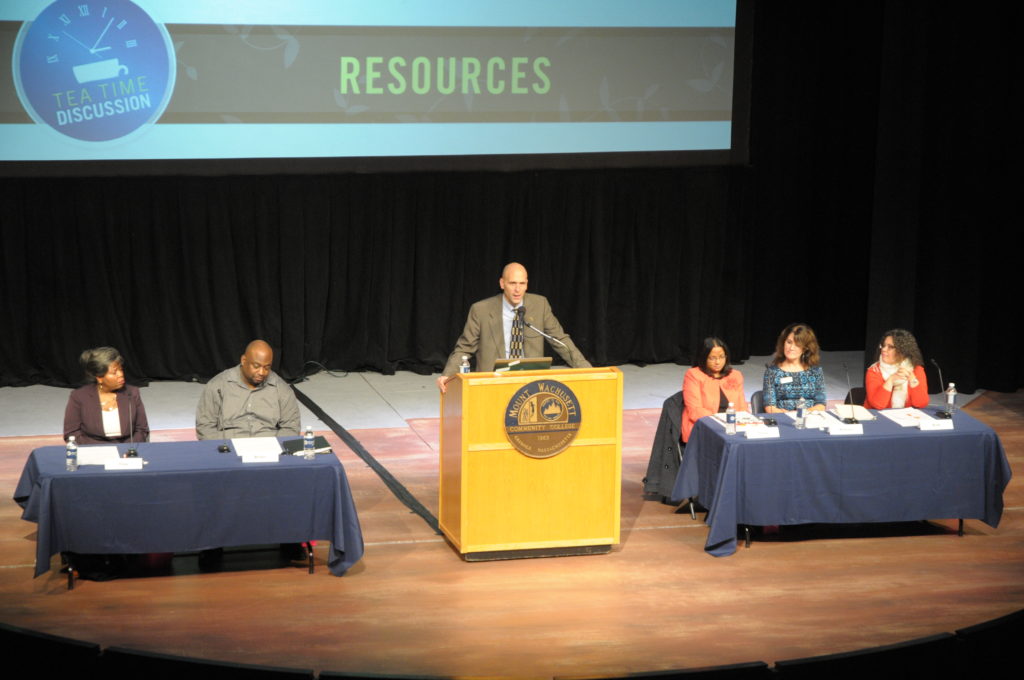 Mount Wachusett Community College welcomed a gathering of students, community members, and care workers at a Minority Mental Health Awareness Summit on Monday, October 29.
The event featured a panel of multicultural mental health professionals, suicide prevention trainings in English and Spanish, and a resource fair as part of the Tea Time Speaker Series. The event was attended by MWCC students, members of the community, mental health professionals and area residents. The event was also attended by high school students from Fitchburg and Leominster. The students are participants in the Workforce Diversity Pipeline Program, which is funded through a grant from the U.S. Department of Health and Human Services' Office of Minority Health.  
The two sessions of Question, Persuade, and Refer (QPR) suicide prevention training kicked off the summit, with one in Spanish and one in English. The QPR training was sponsored by LUK, Heywood Hospital and the Montachusett Suicide Prevention Task Force. After a provided lunch, a multicultural panel on mental health took place.
The panel was made up of:
Moderator:
Kimarta Maxwell, MSW, LICSW who operates a Private Practice
Panelists:
Bruce E. Wells, MHA who is the Vice President of New Dawn Integrated Behavioral Health Center Inc.
Melissa Manzi, MSW, LICSW Mental Health Counselor of Mount Wachusett Community College Tina Adams, Ph.D. TRA PhD who operates a Private Practice
Tessa Lashley, M.Ed., C.A.G.S . Licensed School Psychologist of Gardner Public Schools
Kim M. Robles, LMHC, BC-DMT of Movimiento! Counseling Services
The panel discussion dove into disparities that exist within mental health, including lack of representation in the field and cultural barriers to seeking help. Panelists discussed how, despite it being important, people are fearful of talking about mental health. Having these discussions are vital, because prevention and intervention are key to dealing with mental health, said Maxwell as she kicked off the discussion.
"You're a whole person and we need to talk about wellness in a holistic way," she said explaining that different pieces of a person's health cannot be looked at in a vacuum.
Panelists explained that therapists and mental health workers need to be able to "code switch" to be able to better communicate with their clients, and that equality of treatment on all levels is important. All health care providers, said Wells, take an oath of care and they are there to help. He encouraged people to seek help and assist others who might be suffering in getting help.
"We tend to isolate ourselves and deal with mental health privately," said Wells.
Maxwell echoed that sentiment, saying that it is important to cultivate positive relationships and activities.
"We have a responsibility to care for our own mental health. Limit your time on social media… limit your time and exposure to things that are not healthy," she said. "Expose yourself to the things that build you."
The Tea Time Speaker Series is sponsored by Mount Wachusett Community College's Gateway to College, Mount Wachusett Community College's Leading for Change Diversity Consortium, The North Central Massachusetts Minority Coalition/Three Pyramids Inc, Workforce Diversity Pipeline Program and is funded through a grant from the U.S. Department of Health and Human Services' Office of Minority Health, LUK., Heywood Hospital, Montachusett Suicide Prevention Task Force, Mental and Behavioral Health CHIP, and CHNA 9 Racial Justice Chip.