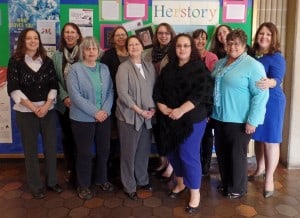 Faculty and staff members who play an instrumental role in the lives of MWCC students were recognized on March 24 during the college's annual Women's Appreciation Day. The celebration capped a month-long of activities and events in celebration of Women's History Month.
For the eighth year, students in Professor Susan Goldstein's Journalism I class have interviewed and written feature articles on women who are making a difference in the lives of others. The mentors recognized through the Women's HerStory Project are nominated by MWCC students.
This year's honorees are: Sue Blain, Advisor; Emily Carr, Adjunct Professor, Graphic & Interactive Design; Michelle Contey, Academic Counselor; Susan Guartafierro, Admissions Office Clerk; Maryann Kane, Early Childhood Education Professor; Joyce Kulig, Retention Specialist with the Visions Program; Amy LaBarge, Academic/Disabilities Counselor; Melissa Manzi, Mental Health Counselor; Eveliz Rivera-White, Financial Aid Advisor; Lea Ann Scales, Vice President of External Affairs, Communications & K-12 Partnerships; Donna Tully, Associate Professor of Nursing; Denise Whitney, Administrative Assistant in the Division of Lifelong Learning and Workforce Development; Sara Williams, Management Assistant with the Visions and Rx programs.
Their photographs and inspiring stories are on display in the South Café throughout the month.