As Veterans Day approaches, Mount Wachusett Community College proudly continues serving veteran students, validated with additional recognition as a military friendly institution by the 2017 Military Friendly® School designation. Just last week, the college also ranked number four across the country in the Best for Vets: Colleges 2017 rankings for 2-year colleges conducted by Military Times.
First published in 2009, the Military Friendly® Schools designation is determined by Victory Media, publisher of G.I. Jobs®, STEM Jobs SM , and Military Spouse. Each year, the list of Military Friendly® Schools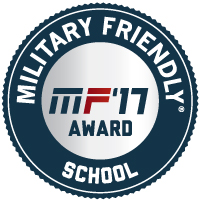 is provided to service members and their families, helping them select the best college, university, or trade school to receive the education and training needed to pursue a civilian career.
Mount Wachusett Community College offers veteran students and their families access to a veteran center with comprehensive services, computers and study space, and dedicated space to spend time with their peers and other veteran students. Other services include textbook loans, counseling, and assistance with benefits. A full-time Director of Veteran Services advocates for veteran students, educates college staff and faculty on veteran challenges, arranges for clinical meetings if necessary, and provides access to outside resources such as VA VITAL, the Montachusett Veteran Outreach Center, and telehealth services with the VA in Bedford.
Institutions earning the Military Friendly® School designation were evaluated using both public data sources and responses from Victory Media's proprietary survey. More than 1,600 schools participated in the 2017 survey; 1,160 were awarded with the designation. Ratings methodology, criteria, and weightings were determined by Victory Media with input from the Military Friendly® Advisory Council of independent leaders in the higher education and military recruitment community.
Final ratings were determined by combining the institution's survey scores with the assessment of the institution's ability to meet thresholds for Student Retention, Graduation, Job Placement, Loan Repayment, Persistence (Degree Advancement or Transfer) and Loan Default rates for all students and, specifically, for student veterans.
"Mount Wachusett has a long tradition of being a Military Friendly institution. This requires a commitment from all departments and personnel to learn about and support military connected students in their pursuit of new opportunities. It is a privilege to work at a community college that is so compassionate and supportive of our student veterans" said Robert Mayer, Director of Veteran Services at MWCC.
According to Daniel Nichols, a Navy Reserve veteran and Chief Product Officer at Victory Media, "Our ability to apply a clear, consistent standard to the majority of colleges gives veterans a comprehensive view of which schools are striving to provide the best opportunities and conditions for our nation's student veterans. Military Friendly® helps military families make the best use of the Post-9/11 GI Bill and other federal benefits while allowing us to further our goal of assisting them in finding success in their chosen career fields."
For more information about Mount Wachusett Community College's commitment to military students, visit mwcc.edu/veteran. Mount Wachusett Community College will be showcased along with other 2017 Military Friendly® Schools in the annual Guide to Military Friendly® Schools, special education issues of G.I. Jobs ® and Military Spouse Magazine, and on militaryfriendly.com.