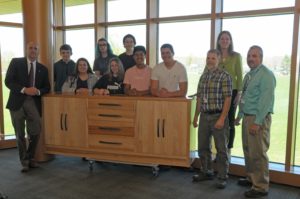 Montachusett Regional Vocational Technical School students recently delivered furniture to Mount Wachusett Community College made from three maple trees that had previously been located at the college's Gardner campus.
The trees were removed during the construction of the Asquino Science Center but were put to a new use in keeping with the college's commitment to the environment. Mount Wachusett Community College has a long-standing commitment to the environment that includes twin wind turbines as well as a biomass heating system.
"I am so happy that Monty Tech was able to help us repurpose these trees that stood on the grounds of the school since it was farmland. The work the cabinet making students did is truly outstanding," said MWCC President James Vander Hooven.
Juniors in the school's cabinet making course built the two credenzas. The wood was harvested during construction and then turned over to the school and ultimately the students.
The two pieces of furniture were delivered on May 9 and will reside in the Murphy Conference Room close to the sight where the three trees had stood.