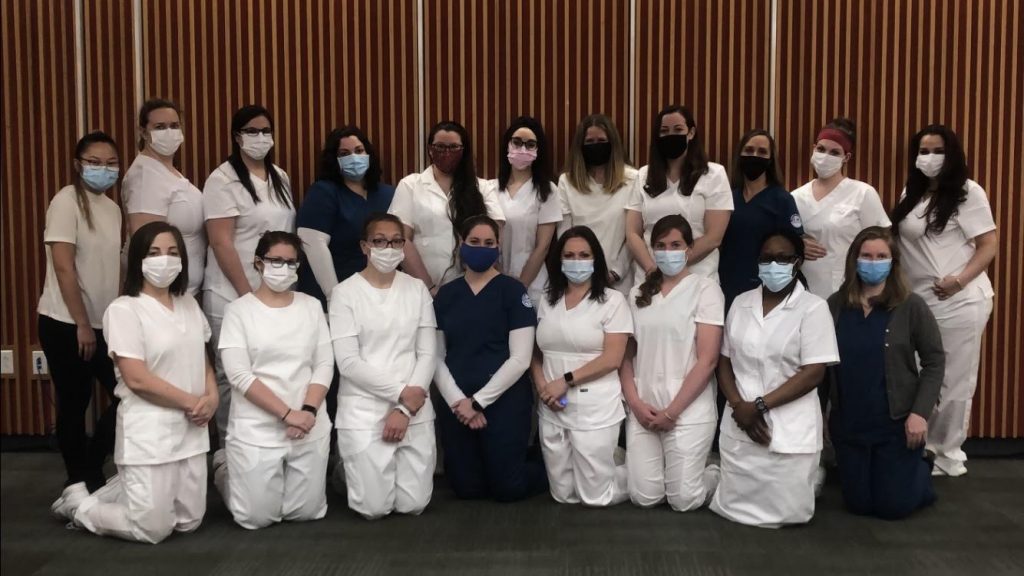 Mount Wachusett Community College celebrated the 104 graduates of the Associate Degree in Nursing Class of 2021 with a pinning ceremony via live stream on May 27, 2021.
"It is a great honor to be with you to congratulate you on your Associate Degree in Nursing," MWCC President James Vander Hooven welcomed graduates to the ceremony. "We know your experience has been difficult to say the least. Your persistence and your drive to get your nursing degree has been exemplary. We have appreciated being a part of your path forward in a career where you are going to do so much good for so many others. Thank you for the patience you have shown and the commitment to your educational goals."
A traditional pinning ceremony welcomes students to the nursing profession with graduates receiving lapel pins fastened by a mentor from the nursing profession. Due to the virtual nature of the 2021 ceremony, videos of students receiving pins from family and friends were included in the live stream event.
Gardner Mayor Mike Nicholson addressed the graduates from the Heywood Healthcare vaccination clinic at the Polish American Citizens Club. "On behalf of the City of Gardner I want you to know that the meaning behind this ceremony is more important than ever. We are so thankful for the faculty and students who have helped us at our vaccination clinic. We would not have been as successful as we have been without the assistance provided by you all. This is an impact that this city will never forget."
"On behalf of the city, I have a special proclamation for you," Nicholson continued. "I, Michael J. Nicholson, Mayor of Gardner, alongside Council President Elizabeth J. Kazinkas, do hereby proclaim May 23-29, 2021 nursing student appreciation week here in the city of Gardner. And we further name May 27, 2021 as Mount Wachusett Community College Nursing Day here in Gardner to help raise awareness in our community and as a sign of our eternal gratitude for all of those who have helped us here during this pandemic like the world has never seen in 100 years. Thank you very much on behalf of a grateful city and best of luck in your future endeavors."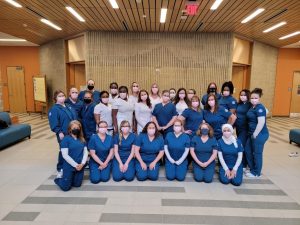 The ADN Class of 2021 in order by hometown/city are:
Khadija Nakalule, Acton
Julienne Desravines, Ashburnham
Daihyana Wood, Ashburnham
Chelsea Karr, Ashby
Jessica Molina, Athol
Ashley Troung, Ayer
Janet Johnson, Baldwinville
Shannon Dougherty, Charlton
Margaret Kimani, Charlton
Anthony Mwangi, Charlton
Sulaiman Muyanja, Chelmsford
Sarah Catrambone, Chicopee
Whitney Huynh, Clinton
Adela Lopez, Clinton
Shannon Vautour, East Templeton
Molly Bodurtha, Fitchburg
Kaylah  Israel , Fitchburg
Anesia Clark, Fitchburg
Jennifer Fratkin, Fitchburg
Felicia Rodriguez, Fitchburg
Tamra Corliss, Fitchburg
Christabel Erhagbai, Fitchburg
Nicole Fiske, Fitchburg
Tonia Langevin, Fitzwilliam
Shannon Gagen, Framingham
Anna Leibman, Gardner
Heather White, Gardner
Rebecca D'amico, Gardner
Shannon Kennedy, Gardner
Bettina Malay, Gardner
Hannah Miller, Gardner
Kayla Murphy, Gardner
Jeremiah Veino, Gardner
Kathleen Blake, Greenville
Ryan Roy, Groton
Katrina Bogaard, Hubbardston
Kimberly Handy, Hubbardston
Kayley Fannon, Hudson
Brittany Baldwin, Jaffrey
Anna Uusitalo, Jaffrey
Yvone Brown, Leominster
Victoria Chapman, Leominster
Katrina Hall, Leominster
Patricia Kwarteng, Leominster
Paula Lynde, Leominster
Holly Wamsley, Leominster
Jessica Senee, Leominster
Autumn Wendel, Leominster
Brenda Nambajwe, Lowell
Stephanie White, Lunenburg
Sacha Santana, Merrimack
Betty Nyaga, Methuen
Shania Lampinen, New Ipswich
Taylor Rautiola, New Ipswich
Alexandra Marceau, North Brookfield
Marissa Hirakawa, Northborough
Rebecca Atkins, Oakham
Branden Burke, Orange
Maris Clement, Orange
Gianna Smith, Paxton
Rebecca Mitus, Petersham
David Morris, Phillipston
Kristina Eramo, Princeton
Breanna Burgess, Putney
Bildad Wanjema, Raynham
Tamara Popko, Rindge
Heather Palmer, Rutland
Cassandra Tessier, Rutland
John Mazur, Rutland
James Tirrell, Rutland
Alison Mayorga, Shirley
Christopher Jones, Shirley
Asma Kayal, Shrewsbury
Katalina Rivera, Southbridge
Carmen Belville, Sterling
Gabrielle Perry, Sutton
Grace Robichaud, Templeton
Christine Aruda, Townsend
Erin Maxim, Townsend
Briana Kujawski, Webster
Sarah Ulmer, West Townsend
Chelsey Stange, Westminster
Zachary Crosby, Winchendon
Ashley Ellis, Winchendon
Elizabeth Stamper, Winchendon
Christina Wolski, Winchendon
Amy Larocque, Winchendon
Brian Coker, Woburn
James Graves, Worcester
Saveth Huy, Worcester
Kelliann Smith, Worcester
Deborah Barwuah, Worcester
Charlene Gayflor, Worcester
Rachel Keblinsky, Worcester
Henrietta Konadu, Worcester
Adelaide Boahen, Worcester
Kate Boateng, Worcester
Elisabeth Rosario, Worcester
Michelle Corey, Worcester
Jane Mason, Worcester
Prossy Nalubega, Worcester
Sylvia Ofori, Worcester
Alberta Owuh, Worcester
Coral Valerio, Worcester