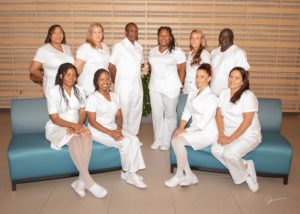 GARDNER–Mount Wachusett Community College celebrated the accomplishments of ten graduates and welcomed them into the nursing profession at a traditional pinning ceremony, Thursday, August 29, at its Gardner Campus. The Mount opened its doors to the Quincy College LPN-ADN Bridge student cohort in August of 2018. Students that participated in this program were offered the opportunity to do so after the closing of the Quincy College of Nursing Program.
Graduates were welcomed into the profession by having the program's nursing pin fastened to their lapels by a family member, friend, or an alumnus of the program, or a faculty member. The pin marks where the nurses completed their studies and distinguishes them from other health care professionals. The eight-star MWCC pin is imprinted with the words "Service to Humanity and the World."
As part of the ceremony, the students also took a nursing pledge that dates back to Florence Nightingale, who distinguished herself during the Crimean War by coming to the aid of sick and wounded soldiers.