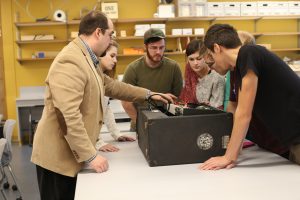 Mount Wachusett Community College will spring to life on January 17 as students return to the school for the first day of the spring semester.
The first day of classes will begin next week for both the college's semester-long courses as well as an accelerated option that allows students to split their semester into two cycles. Full-semester courses and Cycle 1 courses will begin on January 17. However, Cycle 1 courses will end on March 8 with Cycle 2 courses beginning on March 20 and wrapping up with full-semester courses on May 15. These options allow students to build a class schedule that fits with the rest of their lives, setting them up for success.
"The beginning of the semester is always an exciting time, with students filling the halls and classrooms with energy as both our full-semester and accelerated classes begin," said President Daniel M. Asquino. "I am also pleased to start the second semester of the Commonwealth Commitment, which benefits students who qualify by locking in their tuition and getting them money back at the end of the semester."
The Commonwealth Commitment was announced in March with every public campus in Massachusetts committing to providing 10 percent rebates to qualifying undergraduate students at the end of each successfully completed semester while freezing costs for qualified students. Students who meet the program requirements will, depending on the transfer pathway they choose, be able to realize an average savings of $5,090 off the cost of a baccalaureate degree.
The full academic calendar is available online at mwcc.edu/academic/academic-calendar/ along with course listings. More information on the Commonwealth Commitment is available online at mwcc.edu/macomcom.