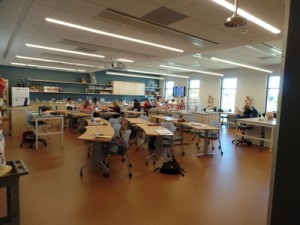 Mount Wachusett Community College students, faculty and staff; Massachusetts leaders; and the greater community will dedicate the new Dr. Daniel M. Asquino Science Center in recognition of President Asquino's 30 years of leadership at Mount Wachusett Community College at a ceremony on Tuesday, November 15 at 2 pm.
The public opening of the new building, a state-of-the-art addition to the Gardner campus, will be commemorated with a speaking program including Massachusetts Lieutenant Governor Karyn Polito and Division of Capital Asset Management and Maintenance Commissioner Carol Gladstone, as well as a ceremonial ribbon cutting, unveiling of the naming of the building, and tours of the new facilities.
Along with honored guests, college staff, faculty, students, trustees, alumni, and community members will be in attendance.
"This new Science Center offers real opportunity for our students," said Mount Wachusett Community College Board of Trustees Chair Tina Sbrega. "Opportunity is something President Asquino has relentlessly pursued throughout his 30 years at the helm of this great college. Our students will be better prepared to be tomorrow's leaders. We are all so proud to recognize President Asquino's commitment to students and our college by naming this building in his honor."
Following more than a year of construction and extensive renovations, the new science center replaces existing laboratories nearly a half-century old and will enhance the learning environment for all students, particularly those seeking careers in STEM fields.
The Dr. Daniel M. Asquino Science Center includes LEED Gold rated labs, classrooms, and student study space for the college's continued pursuit of academic excellence.
The $41 million project includes the 44,000 square-foot science center, a new 2,300 square-foot greenhouse and renovations throughout the existing Arthur F. Haley Academic Center. MWCC received $37.9 million in state capital funds for the project, as well as a $500,000 grant from Massachusetts Life Sciences for laboratory equipment.
From an economic standpoint, this is the largest construction project in North Central Massachusetts, which in itself helps boost the region's economy by providing work for Massachusetts businesses and bringing more traffic to local businesses and service providers. Additionally, the project was completed on-time and on-budget.
Designed by Boston-based Architerra, Inc. to meet LEED Gold certification for efficiency and sustainability, the new building will contain energy-efficient features to tie in with the college's commitment to sustainability. Construction began in spring 2015. Shawmut Design & Construction, also based in Boston, oversaw the 18-month project as construction manager.
Over the past 15 years, MWCC has been the recipient of top state and national sustainability awards, including the American Association of College and University Presidents' Climate Commitment, the U.S. Department of Energy, the U.S. Environmental Protection Agency and the National Wildlife Federation.
Amenities in the new building include eight new classrooms and laboratories, four lab prep rooms, 24 new faculty offices, student study space and interior glass walls to highlight STEM student innovation. Renovations to the Haley Academic Center include a new visitor entrance, a multi-purpose room, an academic advising suite, a refurbished student-centered campus commons and increased accessibility to the Raymond M. LaFontaine Fine Arts Center.
Immediately following the dedication, Mount Wachusett Community College is hosting an Open House from 3:30 to 7pm. The public, past MWCC staff and faculty, and all community partners are encouraged and invited to attend. For more information, please contact Lois Cox at 978-630-9101.