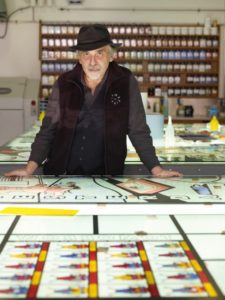 Pulitzer Prize-winning author and illustrator Art Spiegelman will discuss his graphic novel, "Maus: A Survivor's Tale", on Thursday, April 16, at Mount Wachusett Community College.
"Maus" tells the story of Vladek Spiegelman, a Jewish survivor of Hitler's Europe, and his son, a cartoonist, coming to terms with his father's story. According to a review in The New York Times, the book, "an epic story told in tiny pictures," succeeds in "drawing us closer to the bleak heart of the Holocaust." "Maus" is the first graphic novel to win a Pulitzer Prize.
Spiegelman's long career includes drawing for Topps Bubble Gum comics, co-founding RAW (an underground graphics anthology), and working as a contributing artist for The New Yorker. Throughout his career, Spiegelman has been instrumental in establishing the comic book medium as an accepted form of adult literature.
Spiegelman's talk is sponsored by the MWCC Humanities Project, with funding from the National Endowment for the Humanities and Mass Humanities. This year, the theme for the Humanities Project has focused on the rich history and cultural significance of graphic novels.
The lecture will be held at the Theatre at the Mount. Admission is free and open to the public, but tickets are required and can be ordered at the Humanities Project website, or by calling 978-630-9388.