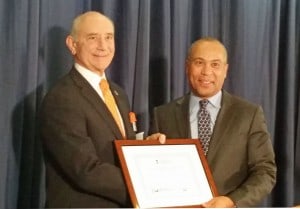 Former Massachusetts Governor Deval Patrick announced at a Boston Foundation forum Tuesday afternoon that Mount Wachusett Community College is the recipient of the 2016 innovation prize named for him.
The Boston Foundation created the Deval Patrick Award for Community Colleges in 2014 to recognize progress and excellence in establishing partnerships between employers and community colleges, in the process building effective career pathways for students from one of Massachusetts' 15 Community Colleges.
The annual $50,000 award is given to a community college selected by a volunteer committee of representatives from the higher education, workforce and business communities.
"I'm particularly happy to award this year's prize to Mount Wachusett Community College," Gov. Patrick said, lauding the college's manufacturing job training programs. "When I proposed changes to the way we think of community colleges, this is the type of outcome I had in mind."
"During his time as Governor of Massachusetts and since his return to private life, Deval Patrick has always demonstrated a commitment to advancing and improving educational and career opportunities for all residents of the Commonwealth, but especially to those most in need," said Paul S. Grogan, President and CEO of the Boston Foundation.
"In hosting and presenting the Deval Patrick Award, the Boston Foundation seeks to honor Governor Patrick's passion and reiterate our own support for collaboration between the academic and business communities. Mt. Wachusett Community College's unique job training programs demonstrate the high level of timely innovation called for by the Patrick Award."
MWCC, which serves 4,700 credit students at its main campus in Gardner and satellite campuses in Devens, Leominster and Fitchburg, was selected for developing its Advanced Manufacturing Technology Programs – stackable programs in advanced manufacturing that address local employer training needs and provide for multiple entry and exit points. Interested students can take non-credit or credit classes that lead directly to employment opportunities, industry credentials, and a pathway for completing additional credit courses at the college. Over the past two years, 291 students have enrolled in the program.
"We are honored that the Boston Foundation has recognized the value of the opportunities we are offering our students," said MWCC President Daniel M. Asquino. "We are very fortunate to be working with industry partners to ensure we are providing employers with a trained and skilled workforce so that we can support and grow our regional economy."
The Advanced Manufacturing Technology Programs offer four levels of training:
The six-week Industrial Readiness Training (IRT) that provides skills for entry-level employees in manufacturing and addresses workplace success (soft) skills, technical content, and numeracy/literacy.
The optional 40-hour Quality Systems Training (QST), which is offered as stand alone or in conjunction with the IRT, prepares students for American Society for Quality certification, and provides three credits for a college course. The QST employment placement rate exceeds 77%.
The one-year certificate in Mechatronics (Automation and Robotics) and a one-year certificate in Analytical Laboratory and Quality Systems.
And finally, the optional 2-year A.S. Degree in Manufacturing Technology – Plastics or a 2-year A.S. Degree in Biomanufacturing with a Quality concentration.
Several other speakers addressed the audience at the Patrick Award forum Tuesday, including Grogan; Massachusetts Secretary of Labor Ronald L. Walker; Joseph Fuller, Harvard Business School professor of Management Practice; Lane Glenn, President of North Essex Community College and president of the Massachusetts Community Colleges Executive Office Council of Presidents; Bob LePage and Jeff Hayden from the Springfield Technical Community College/Holyoke Community College partnership; and Elizabeth Pauley, Boston Foundation Senior Director of Education to Career. Walker gave a talk titled, "The Economic Imperative," followed by Fuller's presentation, "Addressing the Job Skills Mismatch." Fuller and Walker then discussed job creation together.
Over the past half-century, Mount Wachusett Community College has built a tradition of providing innovative undergraduate education, workforce development, personal enrichment, and community service to North Central Massachusetts, and beyond. Rooted in the community since 1963, the college now serves approximately 12,000 credit and noncredit students each year at its main campus in Gardner and satellite campuses in Devens, Leominster and Fitchburg. An award-winning, national leader in the area of renewable energy and sustainability, MWCC is also nationally recognized for its veterans' services, civic engagement and K-12 partnerships. The college is accredited by the New England Association of Schools and Colleges (NEASC).
The Boston Foundation, Greater Boston's community foundation, is one of the largest community foundations in the nation, with net assets of some $1 billion. In 2015, the Foundation and its donors made more than $110 million in grants to nonprofit organizations and received gifts of approximately $120 million. In celebration of its centennial in 2015, the Boston Foundation launched the Campaign for Boston to strengthen the Permanent Fund for Boston, Greater Boston's only endowment fund supporting organizations focused on the most pressing needs of Greater Boston.  The Foundation is proud to be a partner in philanthropy, with nearly 1,000 separate charitable funds established by donors either for the general benefit of the community or for special purposes.
The Boston Foundation also serves as a major civic leader, provider of information, convener and sponsor of special initiatives that address the region's most serious challenges. The Philanthropic Initiative (TPI), an operating unit of the Foundation, designs and implements customized philanthropic strategies for families, foundations and corporations around the globe. For more information about the Boston Foundation and TPI, visit www.tbf.org or call 617-338-1700.