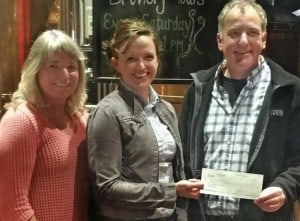 The MWCC Alumni Network held its first Dine for a Cause event, hosted by the Gardner Ale House on March 29, raising $800 for the alumni scholarship fund.
Alumni, members of the college community, supporters and friends enjoyed a delicious meal, and each others company, all in support of student success. The Ale House generously donated 10% of the evening's dining proceeds to the Alumni Scholarship Fund.
The Alumni Network also hosted a chance table, including a 50/50 cash raffle, and a Wachusett-themed basket valued at approximately $500. MWCC alumnus and member of the alumni board, John Day ('15), won the cash raffle and the basket was won by Paul Geoffroy ('77).
MWCC Alumni Network board member Briana Nobrega ('07) worked with Ale House staff to coordinate the event.
"I was really pleased with the turnout. It was obvious that everyone enjoyed themselves and I think at one point every table was full. There was also a constant flow of guests engaging with our alumni board at the raffle table and quite a few people reconnecting" she said.
"Being a past scholarship recipient myself, I know first-hand how important this fundraising is for the future of our students, so it was great to see so many people come out to support our cause."
Many MWCC students have a significant financial need, and scholarships help pay for books, laptops or other needed resources that financial aid does not. Without this assistance, many of our students would be unable to attend, or complete their studies. If you are interested in becoming involved in the MWCC Alumni Network, or would like to support student success through a donation to the scholarship fund, visit: https://mwcc.edu/foundation/give/ or contact the Alumni Relations Office at 978-630-9306.
To view photos from the Dine for a Cause event, visit: https://www.facebook.com/MWCCAlumni/
Carol Jacobson