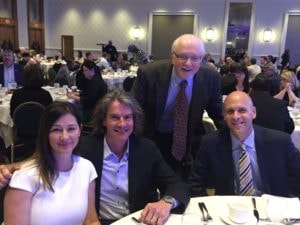 Mount Wachusett Community College Alumnus Kevin Berg was honored as one of the 2017 Alumni of the Year by the American Association of Community Colleges at an awards ceremony highlighting the ability of community colleges to transform lives.
Berg was one of five community college alumni recognized for their outstanding achievements at the AACC's 97th Annual Convention on Tuesday, April 25.
Berg is executive vice president of production at CBS Network Entertainment Group. He's been responsible for the launch and success of the CSI and NCIS franchises, Blue Bloods, Elementary, and more. But as a young man growing up in Central Massachusetts, Berg was aimless. He took a year off after high school to work at one of the region's many chair factories. He didn't want to do it forever, so he enrolled at Mount Wachusett Community College and studied communications. After college, he did a brief stint at a Boston radio station and then headed to Los Angeles. After knocking on doors, he ended up with a job with an award-winning director.
At the ceremony, Berg reflected on his time at MWCC where he said students are given an opportunity to grow as well as learn.
"It's always nice to be recognized for your achievements – however I feel that all I really did here was to get lucky and pick an excellent institution that gave me the basis to become who I am professionally," Berg said. "The Mount was, and is, the place that takes high school kids and turns them into working world adults."
Now a success in his field, Berg also has become a philanthropist. He served five years as a member of the Board for the Entertainment Industry Foundation, a leading charitable organization. And he's involved with Save the Children and several community impact projects. He's also helped countless people start careers in the industry. He's known for answering cold calls and taking chances on people. Berg embodies MWCC's mission to prepare individuals for lives of fulfillment, leadership, and service in a diverse and global society.
Video Credit: American Association of Community Colleges