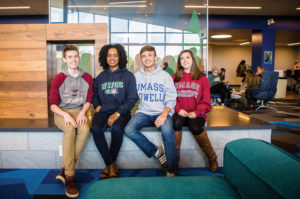 Mount Wachusett Community College is calling on students to take control of their future and plan their transfer pathway early through a series of Know Before You Go! month transfer events.
"If community college students are serious about transferring, they need to speak with their advisor as early as possible. I like students to have a conversation about transferring within their first five classes," said MWCC Transfer Advisor Sarah Pingeton.
If transferring to a four-year school is in a student's plan, getting on a transfer path early can mean ensuring community college classes take the student as far as possible, she said. Sometimes, according to Pingeton, this can mean the difference between graduating and entering as a junior at a four-year school or needing to make up classes.
"Advisors can really help students plot out their education and make the most of their time at their community college and four-year school," she said.
Activities taking place at MWCC during Know Before You Go! month include a transfer workshop each Tuesday. These workshops allow students to hear from partner colleges and universities, ask questions and learn about their options.
The following workshops will take place on the Gardner Campus:
On Tuesday, Feb. 20, a transfer workshop will be held from 5:30 to 6:30 p.m. with Fitchburg State University at MWCC's Leominster campus.
Colleges and universities will also be tabling at multiple times throughout the month at the Gardner campus with information about their school and transferring. Those schools are Anna Maria College, Bay Path University, Becker College, Elms College, Emerson College, Granite State College, Northeastern University, William James College, Worcester State University, UMass Amherst, and UMass Lowell.
Students will also be treated to transfer tips throughout the month of February via MWCC's various social channels such as Instagram and Facebook. These tips are designed to help students prepare for a smooth transfer to a four-year school.