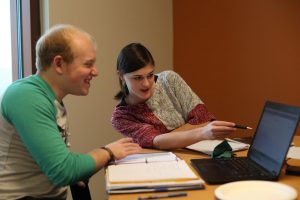 In a push to get technology into the hands of future writers, designers and scientists, Mount Wachusett Community College will be giving away 60 laptops to first-time, full-time liberal arts and science students enrolled in the fall semester.
"For all of our students, but especially liberal arts students, written communication is incredibly important," said Laurie Occhipinti, Dean of the School of Liberal Arts, Education, Humanities, and Communications at Mount Wachusett Community College. "It's recognizing they do need that technology. They do better with that technology. I don't want students doing their homework on their cell phones."
Full-time Liberal Arts, Interdisciplinary Studies or Undecided students enrolled at Mount Wachusett Community College this fall will be eligible to receive a free laptop and special orientation. The program includes a day trip to Boston with transportation and food
provided on August 25 and an orientation on August 31 with lunch provided.
"Part of that extended orientation is going to be a technology orientation. So here is how you can use your computer," said "It's giving them the tools to use the computer and we are going to give them a workshop on study skills and career development."
The program is an outgrowth of the Academic Program Discovery Academy that is a new summer program that pays recent high school graduates to take free classes before entering school at MWCC in the fall. Both are funded by a Performance Incentive Fund Grant from the Massachusetts Department of Higher Education. While the academy was designed to prepare students as they enter college, this laptop will help them as they earn their Associate's degree and beyond.
"The idea is to give a leg up to our students coming in who are going to specialize in liberal arts," said Occhipinti. "It's bridging that barrier and recognizing how important communications is for liberal arts students."
The 60 laptops are available on a first come, first serve basis. Students must qualify for financial aid to participate in this program. Students meeting the enrollment and major criteria may visit mwcc.edu/build/discovery for more information on the requirements of the program and to enroll in the program.