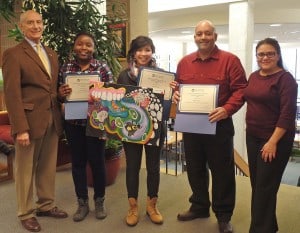 MWCC students from a variety of academic disciplines shared their views on diversity during the college's annual President's Commitment to Diversity Scholastic Competition. College faculty and staff selected four winning submissions from among the poems, essays and artwork entered into the competition.
This year's winners are Gemini Walter of Leominster, Monica Kwan of Fitchburg, Darrège Bruny of Clinton and Eddie Vargas of Gardner. Each will receive a free, three-credit academic course for use during the spring or summer semesters.
Now in its fourth year, the competition was developed by MWCC's Diversity Committee to highlight the value diversity brings to the learning and working environment. Students are encouraged to submit papers, posters, essays, research work, art work or other original, creative work related to issues of diversity or identity, such as those involving disability, race, socio-economic status, veteran status, gender, ethnicity, sexual orientation and national origin.
Walter, a Human Services major, is the competition's first two-time honoree, following up on his winning essay on race relations last year with a new essay on what it means to embrace diversity.
"Diversity is looking into, not around your fellow human beings," he writes. "Diversity is knowing in your heart that every man is your brother and every woman is your sister."
Walter's essay goes on to address gender, disability, illness, faith, race, ethnicity, sexual orientation, economic status, and physical appearance. "Diversity is understanding that there are no absolutes when it comes to human beings…Diversity is not black and white."
Kwan, a Dental Hygiene major, created a painting of a bee inching toward an abstract set of teeth through the unknown. The artwork represents her goal of gaining an education and becoming a successful healthcare professional in contrast to the discrimination against women in China.
"Bees area symbol of perseverance, while simultaneously advocating a team-oriented approach. Their nature of persistence and maintaining equality runs parallel to why my grandparents relocated to the United States from Hong Kong. I wish to honor my grandparents' beliefs that women deserve an education and have the ability to defy stereotypes by being successful."
Bruny, who recently transitioned from English as a Second Language student to an Interdisciplinary Studies major, wrote about the vast difference between how people with disabilities are treated in Haiti, where she was born, and in the U.S., where she now lives with her family. In her essay, the aspiring cardiologist shares the struggles her family experienced due to their physical and medical disabilities of her two young brothers.
"Haiti has a system where disabled people are ostracized or rejected by society. It is a system that will not be over soon, although a great deal of citizens are fighting every day to change it."
Vargas, who is majoring in Media Arts and Technology with a concentration in photography, submitted a collection of photographs and a statement on the diverse, supportive community of skateboarders, a culture that does not discriminate. The submission stemmed from a year of photographing skateboarders of all ages and backgrounds through his volunteer work with the nonprofit organization he founded called Keep Kids Off the Streets, which strives to break stereotypes about skateboarders as trouble-makers.
"I've never seen a happier, more diverse or civilized group of people," he said.