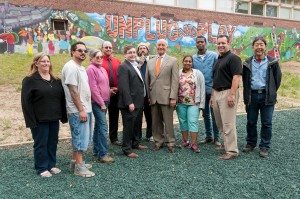 Mount Wachusett Community College art students partnered with the city of Gardner to transform a graffiti-covered wall into public art at the newly refurbished Jackson Playground.
Since mid-May, five students have been working on their "Unplug and Play" mural conveying their message that children should put down the controllers and have fun at the playground. The 150-foot mural depicts Gardner scenes, ranging from the giant chair to the orange and black stripes of the Wildcats to the college's turbines.
On June 8, President Daniel M. Asquino, Mayor Mark Hawke, and state Rep. Jonathan Zlotnik, Art Professor Thomas Matsuda, chair of the college's art department, and other community and college officials visited the site and congratulated the artists on their accomplishment. The artists are Ben Mikels, Anthony Guerrero, Cyrus Ndolo, Margot Parrot, and Kablilganfai Subramanian.
MWCC art students have participated in community art projects since 2008, beginning with a mural at the Goodnow Pearson building on Main Street that covered boarded windows at the former department store.
"Civic engagement has become a hallmark of Mount Wachusett Community College, and this is largely due to the enthusiasm and dedication of our students and faculty, who volunteered their time and talents in so many ways," said MWCC president Daniel M. Asquino. "We're very proud of the students who participated in this downtown beautification project."
"This is a great project. It provides experience for the students and enhances the image of the city. It's ideal," he added.
Matsuda, chair of the college's art department, explained that the students worked collaboratively to develop the theme. "I was so amazed at how quickly it all came together. The students worked very hard and are very dedicated."
The project has received great support from the community said Joshua Cormier, the city's Economic Development Coordinator, who has heard from many families who appreciate what the students have done.
"It added a lot of character to the playground, Cormier said, noting it would likely gain the new nickname "Unplug and Play Playground"
State Rep. Jonathan Zlotnik recalled playing at the park as a child. "It's great to see all of this come together."
-Katherine Best