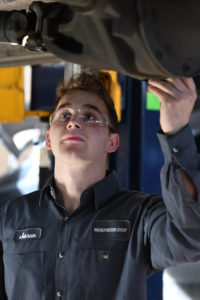 Mount Wachusett Community College Auto Technology graduate Jason Patnaude has been hired as a Mercedes/Sprinter Technician at Mercedes-Benz of Shrewsbury after a successful internship.
Patnaude graduated in May from MWCC with an Associate's Degree in Automotive Technology. Leading up to graduation, he had been interning at Mercedes-Benz of Shrewsbury, which is part of Wagner Motors. During his internship, he worked on the Mercedes-Benz Sprinter vans, which are used as the basis for Recreational Vehicles as well as work vehicles. Upon graduating from MWCC, he was hired at his internship site. Even before he was hired, though, Patnaude recognized the value of his internship.
"This opportunity at Wagner is important to me for my future career because I feel like that the standards that this establishment holds, it's very high, and so if I go anywhere else then they know I'm already up to those standards and that I've already been taught to do things the right way, and do it without question," he said.
Lance Mitchell, the service manager here at Mercedes-Benz of Shrewsbury, said when they hire they are looking for not only technical skills, but a strong character and good interpersonal skills. He spoke highly of Patnaude's skills and attitude.
"The complexity of the automobile these days is such that you have to have somebody with a good background and skills necessary to fix these complicated automobiles," said Mitchell who explained that skills aren't enough. Some of the qualities we look for in a student intern is communication, being a solid citizen, they get here on time, free of outside distractions, they check their cell phone at the door, they focus on being neat and clean, read the instructions on how to perform certain tasks, and ask appropriate questions.
The MWCC Automotive Technology program prepares students to work in various positions in the automotive industry, said Eric Almeida, an Assistant Professor of Automotive Technology at MWCC. Students like Patnaude can come in with no mechanical background and by applying themselves in the program not only learn to work on automobiles, but enhance their soft skills that are so vital to working in the industry whether it's in a small garage or at a large dealership. Internships are integral to a vocational education, said Almeida, as it brings all these skills together and shows students what it takes to hold down a job after they graduate.
"It doesn't matter how smart they are, it doesn't matter what content they know, they need to be good employees first," said Almeida. "One of the main reasons for giving our students internships is to give them a dose of reality. What's it going to be like when they hit the shop floor? We can tell them all we want – what it's going to be like, how they have to act, what's involved. But until they actually do it, they don't fully understand."
A number of programs at MWCC offer internship and externship opportunities. For more information on programs at MWCC and to learn more about internships, MWCC's admissions office can be reached at 978-630-9110 or admissions@mwcc.mass.edu.