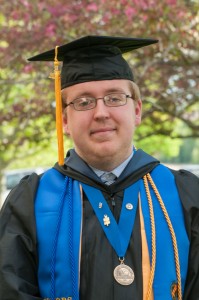 As nearly 300,000 students return to Massachusetts' community colleges, state universities and University of Massachusetts campuses this week, the Department of Higher Education (DHE) awarded competitive grants to increase access to college by students across the Commonwealth.
Twenty-five campuses, including Mount Wachusett, were awarded grants through the Commonwealth Dual Enrollment Partnership (CDEP). The program expands the state's dual enrollment programs, which allow high school students to take college courses and earn credit for free or at a reduced cost. CDEP funding increased from $750,000 in FY15 to $1 million in FY16. MWCC was awarded a $50,000 grant.
The DHE has set a goal of increasing dual enrollment from 2,000 to 3,400 students and is using a new dual enrollment video, outreach to high schools, and social media to promote opportunities on campuses. MWCC alumnus Charles "CJ" Husselbee, who is completing his bachelor's degree in accounting this semester at UMass Amherst's Isenberg School of Management, is among the featured students in the video.
"Increasing collaboration between high schools and higher education is important to making a college education more affordable and creating more opportunities for students across the Commonwealth to succeed in college and their careers,"  Governor Charlie Baker said when announcing the grants. "These awards also present opportunities for college campuses and their regional partners to focus creatively on boosting college completion rates and advancing more students from diverse and underserved populations."