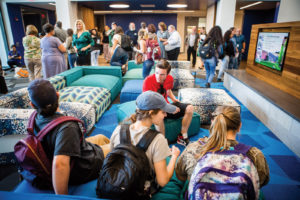 Mount Wachusett Community College has received an award for its Bemis Student Center that opened last fall and has transformed a previously unused portion of the campus into a vibrant location for student life on campus.
"The Bemis Student Center has become the epicenter of student life at MWCC," said MWCC Dean of Students Jason Zelesky who oversaw the project. "Students were instrumental in the design process. Using surveys, student government input and focus groups, we were able to incorporate the feedback of our students to build a space with the amenities that they wanted and the services that they needed."
The student center was awarded a Bronze Citation in the 2018 American School & University Educational Interiors Showcase, a competition honoring education interiors excellence. The jury said that the space was a "fabulous solution to a very common challenge" and that the "creative application of vibrant and warm materials and lighting results in inviting spaces for students."
The 4,500 square foot student center is located at the heart of MWCC's Gardner campus. It incorporates soft seating, interactive gaming stations, big-screen TV's, study areas, and pool and ping-pong tables. All of this was built on top of an existing outdoor patio space that was under-utilized.
"We neutralized a deferred maintenance and ADA concern while creating the exact type of space we wanted for our students – essentially solving two problems with one capital improvement," said Zelesky.
The center was built through a partnership with the Massachusetts State College Building Authority. It was the first time that a community college worked with the MSCBA on a building project. The student center was partially funded by a generous donation of $500,000 from the Bemis Corporation through the Bemis Community Investment Fund.