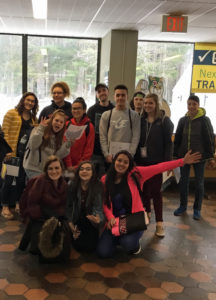 Mount Wachusett Community College sprang to life on January 16 as students returned for the first day of the spring semester, including the first group taking Veterinary Technology classes.
The first day of classes began Tuesday for both the college's semester-long courses as well as an accelerated option that allows students to split their semester into two cycles. Full-semester courses and Cycle 1 courses began on Jan. 16. However, Cycle 1 courses will end on March 7 with Cycle 2 courses beginning on March 19 and wrapping up on May 7.
According to MWCC Dean of Admissions and Enrollment Marcia Rosbury-Henne, Tuesday marked the beginning of many students' time at MWCC, including those transferring from other schools or returning to school after some time away.
"Whoever the student, whatever their age, MWCC is the perfect place for new beginnings. We start classes in January and March, so students aren't too late to make their resolution a reality this spring," said Rosbury-Henne.
Tuesday marked the first classes for MWCC's new Veterinary Technician program with 19 students enrolled. In their first semester, students will participate in courses including Introduction to Veterinary Technology and Hospital Management and Procedures, which will lay out the foundation of veterinary medicine and working in a veterinary hospital. The program will allow graduates to fill a growing need in the job market at a heavily reduced cost compared to other area programs.
"I am so excited to welcome our inaugural group into their first semester in the MWCC Veterinary Technology program," said Certified Veterinary Technician and the Department Chair and Assistant Professor for the Veterinary Technology program at MWCC Alexandra McNamara. "Students will work together to establish a healthy knowledge of veterinary medicine with a special focus on veterinary nursing, and utilize these skills to help pets and even livestock and wildlife in our community."
The two year Associate's Degree program will allow students to gain all the knowledge they need to take the Veterinary Technician National Exam test. Students passing that test will be able to fill the important role of Veterinary Technician that is integral in running a modern veterinary clinic
At just over $8,700 a year, the program can be completed for nearly $60,000 less than the two-year Veterinary Technician program at a Worcester four-year college.