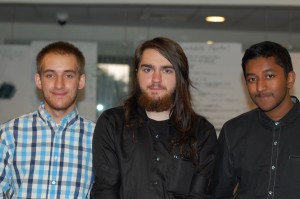 When Sanjiv Sundaramurthy heads off to the University of Arizona this fall to study physics, he'll bring everything he needs for his dorm room, including first-hand experience with college life and free, transferable college credits toward his bachelor's degree thanks to the Upward Bound Math and Science program at Mount Wachusett Community College. 
The 2016 Gardner High School graduate has just completed his second year in UBMS, a year-round federal TRIO program administered by Mount Wachusett Community College for Gardner, Athol and Winchendon students. 
More than two dozen high school students participated in the program's six-week residential component, which took place this summer at Fitchburg State University and included academic courses, extracurricular activities, career exploration and field trips.
The students were recognized for their academic success during an awards ceremony on Aug. 4. Sundaramurthy was joined by Chandler Giuffre of Athol and Nathanial Gagnon of Winchendon as the event's featured student speakers.
This fall, Gagnon, who has earned 30 college credits through UBMS, plans to continue his studies at MWCC before furthering his education in the field of biomedical engineering. Giuffre, who completed an associate degree in Liberal Arts – Pre-Engineering and Physics and earned his high school diploma this spring through MWCC's Pathways Early College Innovation School, is transferring to UMass Lowell fall to continue studying physics and math. 
"UBMS is such a great program," Giuffre said. "This program has allowed me to grow and develop into who I am today." 
Fagan Forhan, Assistant Dean of K-12 Partnerships and Civic Engagement, congratulated the students on their achievements and thanked the many parents and grandparents in attendance for the encouragement they've provided. 
The UBMS program is offered to students who have an aptitude for math and science and are in grades 9 through 12 at Gardner High School, Athol High School and Murdock Middle/Senior High School in Winchendon. Two-thirds of the students are from low income or first-generation college families and have an identified need for services. The supervised residential component acquaints students with campus life while providing an opportunity to grow academically, socially and culturally, said Angele Goss, Director of MWCC's UBMS and North Central Mass Talent Search programs. 
The students attended workshops on leadership and careers, took part in a variety of recreational and educational programs and went on field trips to colleges, universities and museums. 
MWCC's North Central Massachusetts Upward Bound Math and Science program began in 2008 with a grant from the U.S. Department of Education. In 2012, the college received a five-year, $1.3 million grant to continue funding the program.