This year on Thursday, November 8th, 2018, Mount Wachusett Community College will be celebrating National First Generation College Students Day to honor those students who are the first in their families to attend college.
Students arriving at the school between 7:30 – 9:00 am will be greeted by staff volunteers who will give each of them a fresh cup of hot chocolate – something you don't want to miss! In the afternoon, there will be a panel discussion with faculty, staff, and students who are or were first-generation college students.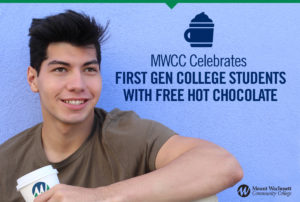 Recognizing first gen college students is a big deal to the community here at Mount Wachusett.  I'd like to emphasize the fact that these first-generation college students have a big impact not only on the school itself but also on society as a whole.
What Does Being a "First-Generation College Student" Really Mean?
Many people aren't sure how to truly define a "first generation college student."' According to the Center for First Generation Student Success, a first-generation college student is:
Enrolled in college
Has parents who did not attend college
First generation college students may struggle with:
Lifestyle changes
Unfamiliar institution policies and procedures
Their own expectations
A sense of belonging
I believe that's all the more reason to celebrate them for their perseverance!
Looking Forward to First Generation College Student Day
Alex Rivera, a first-generation college student here at the Mount, gave his insight into what he anticipates for the event as well as MWCC's demonstration of support for first-generation college students:
"(I am) anticipating a change that will create a path to a bright future for me, my family, and the generations to come," said Rivera.  "The school does a great job to support those who want to make changes in their lives."
When asked about the hot chocolate MWCC will be giving to students on National First Generation College Student Day, Alex expressed his enthusiasm for the delicious drink. "Darn right, I'm looking forward to the hot chocolate," he said.
Why Many Students Do Not Go to College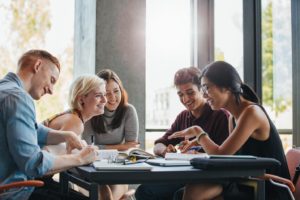 Everyone should have an equal opportunity to pursue their goals and dreams, however, many students in America do not pursue higher education for a number of reasons.  Some students may be:
Intimidated by the thought of college due to a lack of familiarity with it
Overlooking the opportunities that higher education can offer
Failing to see their true potential at a college or university
Unaware that they can pay for college with financial aid and scholarships
Take the Leap of Faith and Go After Your Dreams!
Personally, I believe the actions of current first-generation college students can encourage others to go after their dreams, even if that means jumping out of their comfort zones.  This mentality is what we need to encourage drive in our younger generations.
"As a first-generation college student myself, I understand the importance of recognizing the unique challenges that come with being the first in your family to attend college.  Higher education should be focused on providing all people with the access and opportunity for all citizens to afford and attend college," said Jason Zelesky, MWCC Dean of Students.  "Being the first to do anything is hard.  You are a trailblazer!"
Zelesky continued, saying, "First-generation college students are making a decision to change their life and the lives of their family members.  I believe that education is the gift of freedom; it is through education that we will solve the world's most complex problems while helping individual students make a better life for themselves."
You Are Capable of Much More Than You Think
Lately, I've seen a greater lack of enthusiasm within my generation.  Some of them are not yet aware of the reality that they are capable of much more than they think and that opportunity is everywhere.  Our society can change the way the younger generations in America view themselves and the world around them by showing them how much more there really is to life and how much potential they truly have.
First generation college students serve as great role models to show that you can achieve your dreams if you just take that first leap of faith.  I am not a first-generation college student, however, I find them to be an inspiration and I commend to them for showing us the power of perseverance.
In conclusion, I want to thank the first generation college students for offering us a new perspective.  The world is a big place and there is no telling what we can do with our potential – the possibilities are endless!  Attending college is the perfect place to unlock that potential and I strongly encourage everyone to partake in it.  Don't let fear or uncertainty hold you back – take risks and jump out of your comfort zone because the rewards are truly worthwhile!
---
About the author:
Alexandria Faneuf '19 is a Liberal Arts major at MWCC. She is a contributing writer for the News Center.