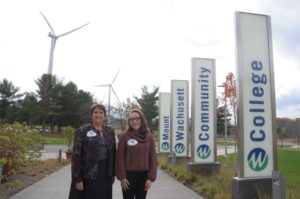 In honor of National First Generation College Students Day, Mount Wachusett Community College will be celebrating first-generation students at its three campuses in activities that will culminate with a panel discussion featuring students, faculty and staff who are the first among their families to have gone to college.
"I believe that the opportunities afforded to me in my lifetime because of my education were multiplied ten times over because there was so much family pride," said Margaret Jaillet, D.P.T. who is MWCC's Assistant Dean for the School of Health Professions, Public Service Programs and Social Sciences and will be on the first generation panel. "A first generation college graduate is change for a village."
Jaillet will be one of seven panelists who will discuss their experience at first generation college students on Wednesday at 12:30 p.m. in the Multipurpose Room at MWCC's Gardner campus during National First Generation College Students Day. This day serves as an opportunity to encourage first generation students, who make up roughly 65 percent of MWCC's student population, while also recognizing all the accomplishments of first generation students.
Jaillet, and the other panelists, will speak about her own accomplishments and the path that led her to college on Wednesday. Jaillet's father was a high school graduate but her mother had only completed some formal education. It meant the world to them when she graduated from college.
"Their daughter completing advanced degrees was one of their proudest moments. I remember my dad going all over town, to the point of embarrassment, telling everyone about my graduation from college," said Jaillet who explained that although they had not gotten a higher education it was her parents who paved the way for hers. "I always say my mother is the wisest person I know. The difference between us is that her hard work provided my education."
Jaillet will be joined on the panel by Brooke Martino from Shirley who is an early education major and first generation college student. She said that navigating her way to college was difficult and she did much of the work on her own. However, when she arrived at MWCC the TRIO Educational Talent Search was a great resource and she is already planning to pursue her master's degree, she said.
"First gen college students can go to school and find a place in the community," said Martino.
The panel will be the culmination of a week of celebrating first generation students at MWCC. These activities include #1GMWCC bumper stickers, inspiring messaging around campus, on-campus fundraising for a First Gen Student Scholarship that will be administered by the MWCC Foundation, and warm cups of cocoa to welcome all students to all three MWCC campuses.