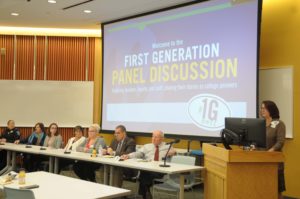 In honor of national First-Generation Celebration Day, Mount Wachusett Community College will be hosting a panel discussion on November 8 designed to relay the experiences of successful first-generation college students.
The panel will be held on Thursday, November 8 in the Multi-Purpose room at the college's Gardner campus from 12:30 to 1:30 p.m. The panel will feature a collection of MWCC's own faculty and staff as well as two current students. They will speak about their own accomplishments and the path that led her to college. The topics that will be covered include what panelists wish they knew when they started college, whether there were challenges specific to being a first-generation student, and what successful tactics they used to graduate from college.
The discussion will be a part of the second annual national First-Generation Celebration Day. Throughout the day, college campuses around the nation will participate by holding rallies, panel discussions, listening sessions, celebrations, and more in recognition of their first-generation students. Institutions can use #CelebrateFirstGen to share their events and join in conversations with colleagues and students.