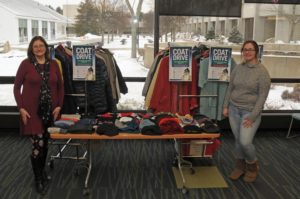 Mount Wachusett Community College faculty and staff collected over 100 articles of winter clothing for students during a recent on-campus coat drive.
"We have a lot of students who struggle with meeting basic needs, which is why we have a food pantry. When winter came in, people around campus were having conversations about how some students did not have winter jackets," said Shelley Errington Nicholson, Director of the Brewer Center for Civic Learning & Community Engagement that coordinated the coat drive.
Nicholson said that the drop-in style distribution of coats was designed to make it easy for students in need of warm, winter clothing to pick up what they need. The coat drive netted 52 coats, 28 hats, 10 sweaters and vests, nine scarves, eight pairs of socks, four pairs of gloves and one pair of ski goggles. These items will be distributed to students until Feb. 9 at MWCC's Gardner campus or until all items are picked up by students. Any remaining items will be distributed to the Gardner Community Action Committee.