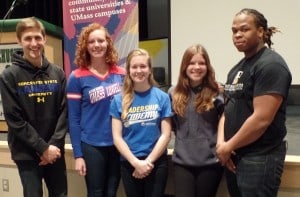 MWCC student Kaila Lundgren, an aspiring Registered Nurse, shared college tips and strategies with 1,000 juniors and seniors during the state Department of Higher Education's "Go Higher" event, held April 7 at Wachusett Regional High School in Holden.
Scheduled throughout the academic year across the state, Go Higher gives Massachusetts high school students the opportunity to learn about academic programs and career options available at the state's 29 public college and university campuses.
One of five student speakers, Lundgren said she chose MWCC because of the fast-track option it provided into the college's nursing program through its Pre-Healthcare Academy, as well as the rigorous academic courses and cost savings on her degree.
"Find a college that's really going to give you stepping stones to your goal," she said.
Quoting Mark Twain, she advised students during two assemblies, "The two most important days in your life are the day you are born and the day you find out why."
Lundgren said she was inspired to become a nurse to help her 8-year-old brother, who lives courageously with a rare kidney stone disease called cystinuria, and by the examples set by her mother, who returned to college to become an RN while raising a family of five children.
A 2015 graduate of Ralph C. Mahar Regional High School, Lundgren works as a safety specialist in the emergency room at Athol Hospital. After successfully completing co-requisites this past year, the 18-year-old Orange resident has now been accepted into the college's nursing program as a member of the Class of 2018.
Students representing UMass Lowell, Framingham State University, Worcester State University and Quinsigamond Community College also spoke about their college experiences. The event included a college fair that showcased numerous Massachusetts schools and featured a variety of STEM-related demonstrations.
Jennifer Stephens, MWCC senior learning specialist in manufacturing, provided a hands-on demonstration in mechatronics, a field that combines mechanical engineering, electrical engineering, computer control and information technology.