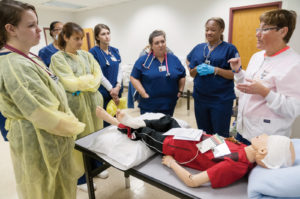 To meet the needs of Quincy College students, Mount Wachusett Community College has created the opportunity for qualified students to complete their nursing degree at MWCC's Devens campus.
"This option will allow nursing students from Quincy College to continue their studies together and finalize their degree," said Dr. Eileen Costello, Dean for Health Professions, Public Service Programs, and Social Sciences and Administrator of the MWCC Nursing Programs. "We are excited to be able to welcome these students to MWCC and help them reach their goal of becoming a registered nurse."
Up to 30 current, qualified Quincy College Licensed Practical Nurse (LPN) to Associate Degree Nursing (ADN) students will be served. Students must apply by July 13th. An admissions decision will be made by July 20th with classes set to start on August 4th.
The move is the result of ongoing discussions on numerous levels between MWCC and Quincy College officials. The discussions began after the state Board of Registration in Nursing withdrew approval of Quincy College's nursing programs in May, resulting in students looking for other locations where they could continue their studies.
"This has been a trying situation for students, but every student I have talked with is incredibly resilient," said Marcia Rosbury-Henne, MWCC's Dean of Admissions and Enrollment Management. "I know that if they decide to continue their studies here at MWCC, not only will they find a robust nursing program but a community that will embrace them. We are delighted that MWCC was able to accommodate the Quincy College students' wishes to be together in one group."
Rosbury-Henne noted that MWCC had a 93 percent pass rate on the NCLEX Registered Nurse licensure exam in 2017 and 100 percent of graduates have jobs in nursing.
The program for Quincy students will run in addition to the current and future nursing groups at MWCC. The addition of this program will not impact the ability for other students in the region to get into this selective program at MWCC.