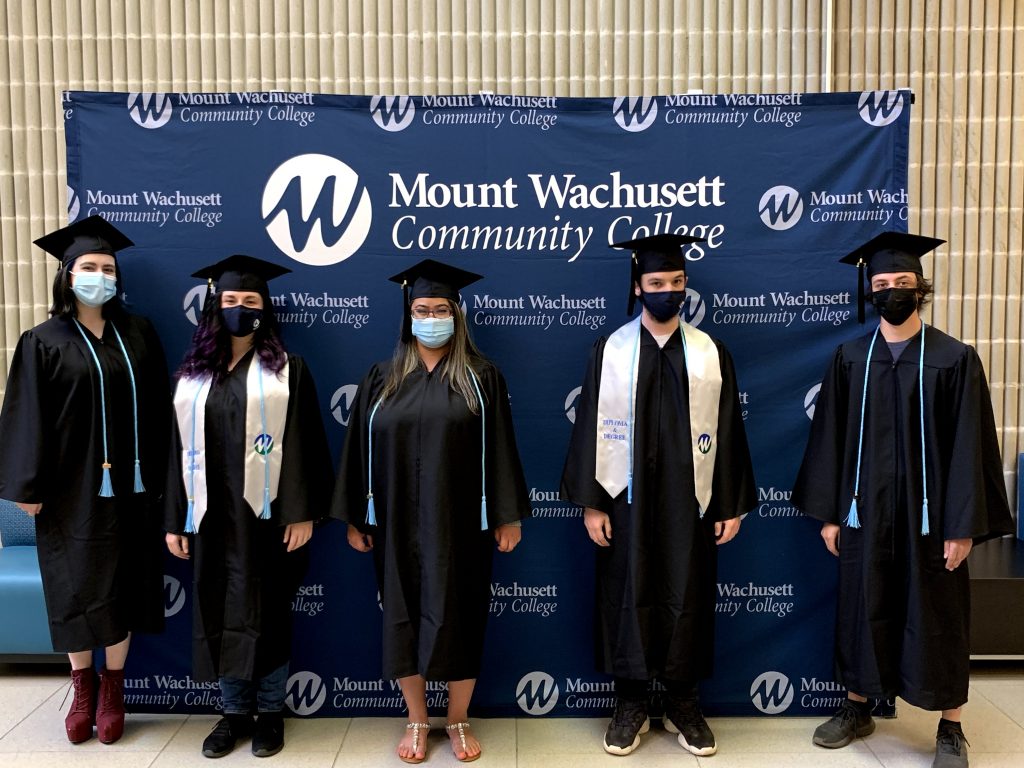 Ten students earned an Associate Degree in addition to their high school diploma
Mount Wachusett Community College, in partnership with Gardner Public Schools, celebrated the thirty-one students who graduated from the Gateway to College Early College program during a virtual event on May 28, 2021.
Founded in 2006 thanks to a grant from the Bill & Melinda Gates Foundation, Gateway to College at Mount Wachusett Community College was the first site of its kind in the Commonwealth. The Early College program is in its 15th year of programming and has graduated 460 students to date.
"I am more proud than I can say for all of our graduates for working so hard to achieve their academic success," noted Lea Ann Scales, MWCC Vice President of Enrollment and Public Affairs. "I am also grateful and proud of the friends, family members and mentors who were there for our students every step of the way, especially the MWCC Early College Gateway to College team for creating and sustaining the network of support that keeps our students on track."
"I am also deeply grateful for all that our partners at Gardner Public Schools have contributed to this powerful partnership," Scales added. "The teams from MWCC and Gardner Schools are working all day, everyday behind the scenes to make it possible for all these students to graduate from high school while accumulating significant college credit—and college degrees—for free."
Ten of the students graduating from the Gateway to College program also were awarded their Associates Degrees on May 19 during the MWCC Commencement ceremonies. Additionally, ten of the students in the MWCC Class of 2021 are Gateway to College Alumni.
Mark Pellegrino, Gardner Public Schools Superintendent addressed graduates, "All of you have been able to participate in courses that are rigorous, enlightening, and thoughtful giving you a lot of information about your world, about yourself, and about who you are. I wish the best for you; I hope you go off onto your next step and it's a wonderful step onto your journey of life."
Gateway to College Resource Specialists Sharmese Gunn and David Thibault-Muñoz expressed pride in their students resilience and achievements.
"Congratulations to the Class of 2021," noted Gunn. "These students have put in their blood, sweat and tears and succeeded, despite the twin pandemics of COVID and the racial uprising we have all experienced over the past year. They are the definition of pivot, which we all needed to do over this past year."
"In a fast-changing world the responsibility is upon us, more than it has ever been, to continue learning and growing, added Thibault-Muñoz. "Graduates, you are all off to continue your educations and pursue your future careers. I am so proud of what you have accomplished thus far, and even more proud of what you will accomplish in the future."
Keynote speaker Nick Mathern, Vice President of K-12 Partnerships for Achieving the Dream, Gateway to College's network partner, congratulated students, staff, and families.
"This is my favorite time of year. Your parents, teachers, and administrators all love this moment because we are so proud of you and we want to marvel at your accomplishments. And you should too," Mathern told students. "You should take a moment to feel pride at what you accomplished, to celebrate, but don't get too comfortable. This isn't a hill to stand on, it is a mile marker, it's a momentum point. You are about to leave us behind, and your next chapter is going to be even more exciting than the last."
"Being part of Gateway to College," Mathern continued. "You have demonstrated that you have resilience and determination. You have proven to yourselves that if something isn't working, you can find another way. You can be successful in the face of a challenge. The experience of overcoming obstacles is an important part of who you are now, and that quality is going to come in handy over the next couple of years. You are entering a world that needs you. That needs your talents, it needs your passion, it needs your energy. Don't be discouraged by the problems that we have not yet solved. We need you to look at these problems with fresh eyes. You are just in time, you know how to come back from a challenge, you are the ones we have been waiting for. You are exemplars for the students who will follow in your footsteps and your examples will change the world."
"We applaud the incredible leap that you have taken, and hope that you will continue on the path that you have already begun to forge in higher education. We wish for all of you the very best of luck and are proud to have been part of your story," MWCC President James Vander Hooven told graduates. "You have demonstrated something to me. By your success, you have demonstrated your ability to overcome all the obstacles that have been put in your way. These have not been typical obstacles. But you persisted and you succeeded. Please remember this as you move forward in your lives. Obstacles and setbacks will inevitably happen. All you need to do is remember this experience, and know that you can accomplish your goals, no matter what comes up in front of you."
The Gateway to College Class of 2021 are:
Julian Briggs, Littleton
Paloma Burgraff, Westminster*
Daylin Cotto, Gardner
Tyler Cusckey, Winchendon
Daniel Doherty, Gardner*
Madison Faneuf, Athol*
Danea Forrester, Gardner*
Modrianna Gaudet-Oxford, Gardner
Veronica Gazzano, Leominster
Sean Harris, Westminster
Camden Hebert, Orange
Alex Hertz, Shirley
Alorwrenn "Tyrian" Hobbs, Holden
Nicole Jodice, Littleton*
Joshua Johnson, Hubbardston
Jonathan Keats, Bolton
Miranda King, Barre*
Thomas Kokernak, Princeton
Olivia Maack, Bolton
Mercyline Muma, Leominster
Lauren Murphy, Westminster
Aaron O'Connor, Leominster
Sydney Ostberg, Orange
Clara Pavlosky, Fitchburg
Angelina Richards, Townsend
Alaina Rodriguez, Fitchburg*
Jasmine Rodriguez, Fitchburg*
Lydia Rogers, Fitchburg*
Jeremiah Rosas, Gardner*
Brayden Spinazzola, Fitchburg
Connor Vaillancourt, Orange
(* Indicates student was also awarded an Associate Degree)
View the ceremony recording at mwcc.edu/gateways-pathways-graduation-2021 following the event.
About MWCC's Gateway to College Program
MWCC's Gateway to College program, established in 2006 as the first Gateway site in New England, provides a second chance for students ages 16 to 21 who have dropped out of high school, are at risk of dropping out, or experienced a setback, as well as an opportunity for home schooled students to complete high school and college studies.