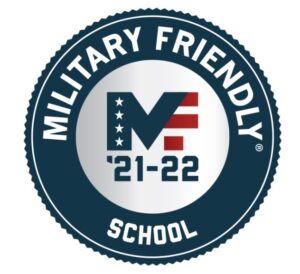 Mount Wachusett Community College has announced that they have earned the 2021-2022 Military Friendly® School Designation.
Veteran Services at Mount Wachusett Community College are designed to help the academic, social, physical, and financial needs of veterans that are returning to school, along with guidance for their academic career.
"Mount Wachusett Community College is first and foremost a student-friendly school. With that kind of inherent culture, it is not a difficult stretch to becoming a military-friendly school. With internal cross-training and cooperation, the entire college is more knowledgeable of the challenges facing our veteran students," MWCC Director of Veteran Services Robert Mayer noted. "Moreover, the cooperation extends far beyond the campus to the area veteran service providers. This allows us to bring a variety of needed services to our veteran students not normally available to an academic institution."
Veteran's services have been helping students more than ever during this pandemic. For more information about Mount Wachusett Community College's student veteran programs, visit our website at mwcc.edu/veterans.
Institutions earning the Military Friendly® School Designation were evaluated based on both public data sources and responses to a proprietary survey. Over 1,200 schools participated in the 2021-2022 survey, only 747 earned the designation.
"The Mount has a long tradition of outstanding support for our Veteran students," MWCC President James Vander Hooven commented. "This award is proof of that continued excellence."
The 2021–2022 Military Friendly® Schools list will be published in the May issue of G.I. Jobs magazine and can be found at www.militaryfriendly.com.
Methodology, criteria, and weightings were determined by Viqtory with input from the Military Friendly® Advisory Council of independent leaders in the higher education and military recruitment community. Final ratings were determined by combining the institution's survey response set and government/agency public data sources, within a logic based scoring assessment.
The Military Friendly® Schools list is created each year based on extensive research using public data sources for more than 8,800 schools nationwide, input from student veterans, and responses to the proprietary, data-driven Military Friendly® Schools survey from participating institutions. The survey questions, methodology, criteria and weighting were developed with the assistance of an independent research firm and an advisory council of educators and employers. The survey is administered for free and is open to all post-secondary schools that wish to participate.
Founded in 2001, VIQTORY is a service-disabled, veteran-owned small business (SDVOSB) that connects the military community to civilian employment, educational and entrepreneurial opportunities through its G.I. Jobs® and Military Friendly® brands. VIQTORY and its brands are not a part of or endorsed by the U.S. Department of Defense or any federal government entity.
Since 1963, Mount Wachusett Community College has been a lifelong learning community dedicated to excellence in education and responsive to the changing needs of the communities we serve. Mount Wachusett Community College offers more than 70 degree and certificate options and has four campuses in Gardner, Fitchburg, Leominster, and Devens.