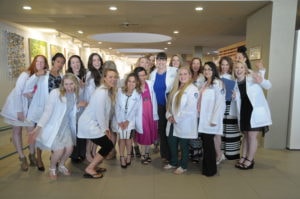 Mount Wachusett Community College is expanding its Dental Assisting Certificate program for the coming school year by opening up enrollment for all students to this in-demand field.
"Because of the low supply of dental assistants, job security is good at this time," said Dr. Michael Meyer, Dental Director for Community Health Connections. "There is constant evolution in the practice of dentistry resulting in ongoing opportunities for advancement in the field of dental assisting."
The Certified Dental Assistant is an integral member of the dental healthcare team who typically assists the dentist during procedures. In addition, the dental assistant takes dental x-rays and dental impressions and performs various lab procedures.
The decision was made to change the program from a selective enrollment to open enrollment to better serve the community and the high demand for dental assistants. A change in the requirements for dental assistants have created a shortage of qualified dental assistants in Massachusetts, said Dr. Meyer. While previously dentists had been able to train assistants on the job, there are now increased educational and certification requirements a dental assistant must meet before obtaining employment.
"The need for formally trained dental assistants has increased sharply," said Dr. Meyer. "I would highly recommend a career in dental assisting. The knowledge and skills obtained from the dental assisting program can be applied regardless of geographic location."
Employment of dental assistants is expected to increase by 6.4 percent over the next four years with the job currently providing a salary between $15.17 and $27.30 an hour.
The Dental Assisting Certificate can be completed in one year and is offered at MWCC's Fitchburg Campus. More information about the dental programs offered by MWCC is available at mwcc.edu/dental.