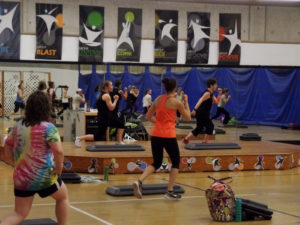 The Mount Wachusett Community College Fitness and Wellness Center is now offering a new program called Veterans Move that provides veterans and their spouses full memberships at the cost of $15 per month when obtained on a physician's referral.
The program came directly from a need in the community, with many physicians seeking an affordable facility in North Central Massachusetts for their patients, said Director of the Fitness & Wellness Center Jared Swerzenski. Before this, many veterans have been making use of the facility in Bedford, which is almost an hour away, he said.
"When I was approached with the opportunity to create this program, I thought it would be a great partnership. Many of these veterans are suffering from significant joint and knee ailments and will be able to use the pool and equipment to help with rehabilitation," said Swerzenski. "Mount Wachusett Community College has created such a positive environment for veterans with the school's varied programming and support systems so this program is a natural fit for the MWCC Fitness Center."
MWCC Fitness and Wellness Center supports veterans in maintaining a healthy lifestyle. The facility includes a six-lane, Olympic sized swimming pool, three full-size indoor basketball courts, two regulation racquetball courts and state-of-the-art weight training/cardiovascular equipment. In addition, the center offers more than 90 free group fitness classes a week, which include Zumba, Yoga, Group Active, Group Groove, Group Power, SilverSneakers and much more, all led by certified instructors and trainers.