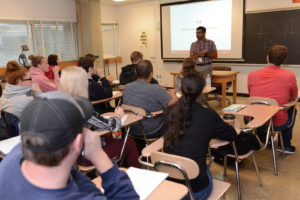 The Mount Wachusett Community College Foundation awarded $182,108.10 in scholarships in the fall semester of the 2018 – 2019 school year, meeting student needs and allowing them to further their education at MWCC.
"We are the last hope for some of our students. They have no one else to lean on," said Carla Zottoli, MWCC's Executive Director of Development and the MWCC Foundation, Inc. "Without us and our donor's support, these students would never be able to achieve their dreams."
The students who receive scholarships from the foundation use their $100 to $3,000 scholarships to buy books, offset transportation costs, help pay for childcare, address housing costs and deal with other financially challenging situations. In a lot of cases, these scholarships help bridge the gap for students whose education is not fully covered through financial aid. This is all made possible by continued donor support, said Zottoli.
"Our donors make the difference between our students being able to get a college degree or not," she said.
Supporting the foundation is straightforward with online contributions able to give directly online at support.mwcc.edu/yearend.
Mount Wachusett Community College Foundation, Inc. is a private, independent, non-profit organization that was established in 1971. The foundation serves as an avenue for the community to assist with the financial support of MWCC. The objective of the foundation is to financially support the educational, social, recreational, and cultural mission of the college and to benefit the students and communities the college serves. The foundation does this by providing scholarships to MWCC students, enhancing academic programs and facilities, supporting public and cultural events, and encouraging professional development for faculty and staff.