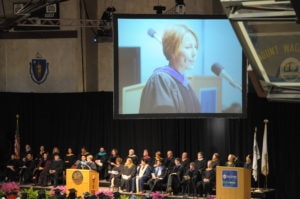 On Wednesday evening, 730 students were awarded nearly 800 degrees and certificates as they graduated from Mount Wachusett Community College.
The gathered graduates at the College's 52nd commencement were reminded by Keynote Speaker Massachusetts Attorney General Maura Healey of the hard work that they applied to make it to this day. Healey focused on the graduate's own stories of perseverance, whether that meant working while going to school, raising a family while getting their degree, postponing their education to serve in the military or pushing themselves to return to school in the first place.
"You rolled up your sleeves. You worked hard and no one can take that away from you. But you also had The Mount at your sides and a school that told you you were not alone in this," said Healey.
It was this commitment to their own education but also the greater community that drew her to speak at The Mount, she said. Because even though the graduates were working hard in their own lives that did not stop them from giving back to others.
"Despite all the demands on your time you still found time to give back to others and uphold this school's national reputation for community service," said Healey who commended the students for giving back nearly 150,000 volunteer hours in the last year. "You are changing lives day in and day out."
Healey encouraged the graduates to continue giving back whether it is in the workforce or continuing to volunteer at their next school.
"You know your education belongs not just to you but to your community. That is really important," said Healey. "I know you will find ways to give back to this community."
In closing, the Attorney General said she could not give a graduation speech without passing along some kind of advice. Her words of advice included "use common sense" and "trust your gut" but Healey focused on the need to connect with others and not pre-judge them.
"It's so important that we talk to one another… and talk to people that are different from ourselves," she said.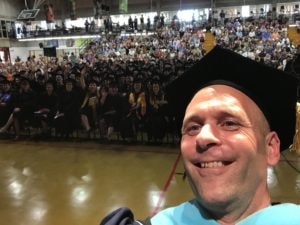 In his remarks at his first commencement at The Mount, President James Vander Hooven commended the graduates for their accomplishments and reminded them of what they have truly learned during their time at MWCC: strategies. While you may have picked up some facts along the way, he told the graduates, learning strategies is what higher education is truly about. These strategies that served the graduates throughout their education are now the same ones that will be invaluable while facing future life or workplace challenges.
"By being here tonight, you have proven yourselves capable of utilizing tried and true strategies for achieving educational success. Whatever your next steps might be … use the strategies you have learned here to your advantage," said President Vander Hooven.
Student Speaker Cynthia Doyle talked about her life as a part-time student and full-time employee at MWCC. The college is a huge part of her family, she said, with her mother having graduated from the school 32 years ago and her daughter having just finished her first year at MWCC.
At the age of 46, Doyle is graduating after four years of pushing herself through late nights and classwork on top of her daily challenges. This story of perseverance is not hers alone, however, but belongs to every student in the audience, she said. During her time working in the Student Accounts office, she has seen firsthand the hard work of many members of the graduating class.
"I am extremely proud to have been a resource for you and I am extremely proud to work for a college that will go to great lengths to set students up for success and will continue to provide support for generations to come," said Doyle. "I have watched us all grow and mature, from the first semester walking through those doors to the strong confident men and women sitting here now."
But neither the journey nor the struggle is over with this graduation, she said.
"What advice I give you today is to keep going forward, it doesn't end here. Whatever it is that you want to strive for, whatever goal you want to achieve, it is doable, continue to go and do it. There will be obstacles. There will be doubters. There will be mistakes. But with hard work there is no limit," Doyle said.
In addition to the speakers, business leader and community volunteer Wayne Canty received Mount Wachusett Community College's 2017 Service Above Self Award. The award recognizes individuals who have made significant contributions within the 29 cities and towns that make up the college's service area. Canty is highly involved in the region's business and volunteer community through both his business Heat Trace Products and his activity on numerous boards and commissions.
Canty talked about his beginnings working in a factory from the age of 17 to earn money to go to school. During that time, he went to what was then called a junior college and would now be called a community college.
"I've been there where you have been; where you are. At least for a few minutes, I can be the poster boy or poster old man of success coming through the community college system. This one here I would consider to be the Ivy League of community colleges. Congratulations," Canty told the graduates
State Representative Susannah Whipps was recognized as Mount Wachusett Community College's 2017 Alumna of the Year. Created in 1989, the award recognizes a Mount Wachusett Community College graduate who has exhibited exceptional career leadership, service to community and commitment to the college. Whipps is a local business owner and has served in government positions since being elected to the Athol Board of Selectman in 2005. Most recently, she was elected as State Rep. in 2015 for the Second Franklin District.
"Learning isn't a contest or competition. It should be a journey and I've had a fabulous journey and the reason I've had such a fabulous journey is because of the foundation here at Mount Wachusett Community College," said Whipps. "I felt a part of something when I was here at Mount Wachusett Community College."
Jasson Alvarado Gomez was presented with the Trustees Award for his service this year on the MWCC Board of Trustees. The President's Key Award for academic excellence was presented to Accounting major Cynthia A. Boucher of Ashburnham and Medical Laboratory Technology major Lara E. White of Lunenburg. Michel L Cocuzza of Winchendon was presented with the Dean's Key, which is awarded to graduates for outstanding service to the college community.
Professor Emeritus status was bestowed posthumously upon Ed Stevens who passed away in April after teaching in the disciplines of physics, mathematics and engineering for over 50 years at MWCC.
Area graduates include:
Massachusetts
Arlington
Certificates: Raquel Maurice
Ashburnham
Associates: Linda J Anderson, Megan J Barker, Cassandra Leigh Benes, Megan Elizabeth Bernard, Cynthia A Boucher, Cassandra Cardillo, Lynne Galvin, Rebecca L Gardner, Jennifer Marie Guerriero, William Robert Hoeksema, Dylan Robert Mei, Lisa M St John, Rachel Celina Vargeletis
Certificates: Patrick R Brownell, Lynne Galvin, Donna M Slocum
Ashby
Associates: Kyna Joan Gilmore, Kimberly M Greig, Aaron B Kenney, Carl William Selmer
Certificates: Victoria Elizabeth Cummings
Athol
Associates: Nicholas  Alvarez, Anastasia  Anderholm, Samantha M Arsenault, Zachary  Bergquist, Heather Christine Chadsey, Sarah A Clark, Jessie A Corbett, Simon  Dufresne, Aurora A Erali, Troy Christopher Godin, Jason  Hicks-Greenough, MaRyea  Jennings, Isabelle C Johnson, Jessi H Kuehl, Cassondra L Lavigne, Lindsey  Lee, Sierra  Lopez, Kari  McGivern, Hannah M Pachalis, Sarah B Rattet, Cameron Jon Raymond, Courtney  Roche, Anthony  Rodriguez, William John Sawin, Donna  Songer, Alejita  Velez, Adam  Verock, Mathieu  Woodbury
Certificates: Allison R Aucoin, Danyelle M Bushee, Samantha M Farley, Luis A Rivera, Anthony Rodriguez, Russell P Vescovi, Matthew White
Auburn
Associates: Shawn F Bello, Megan Elizabeth York
Ayer
Associates: Andrea C Inostroza, Katherine Jordan, Patricia E Kelley, Michael J Murphy, Joseph Santiago, Caitlyn Marie Sherry, Heather E Sinofsky
Certificates: Kelly MacNeil
Baldwinville
Associates: Tiffany R Barsamian, Kayla E Boutell, Tara DeWitte, Phylicia K Duguay, Laura Lyman, Caleb Simeon Matson, Alannah Marie McDonald, Kayla D Rameau, Kyle W Salam
Certificates: Samantha E Whalen
Barre
Associates: Christina M Ackert, Sean W Craig, Jordan M LaBelle, Matthew R LaPointe, Alexandria Morrissey, Sarah Jane O'Sullivan, Liam J Scanlon, Gabrielle Susan Walker
Certificates: Ann Giaquinto Scott, Jordan M LaBelle, Santo Mammone, Jayne Patrice Proctor
Belchertown
Associates: Christine A Brown
Berlin
Associates: Graham Bateman
Bernardston
Associates: William M Andrews
Bolton
Associates: Kayleigh M Cavanaugh, Daniel C Wuorio
Certificates: Peter S Hopkins
Boston
Associates: Wei He Yiu
Boxborough
Associates: Conner Dempsey
Certificates: Susan M LaForest
Brookfield
Associates: Mary K Faugno Wiles, Meghan Janice Robidoux
Buzzards Bay
Associates: Joshua T Goliber
Cherry Valley
Associates: Stacy L Riel-Rigiero
Clinton
Associates: Megan F Ballenger, Eva Beland, Larry F Ciarletta, Laura Louise Coldwell, Colleen M Hannen, Nicholas Y Hernandez, Brittany A Hutchinson, Jeffrey Jean-Baptiste, Mailoan Nguyen, Erin E O'Connell, Elizabeth D Silva, Jason  Tovar
Certificates: Megan F Ballenger, Megan A Pasquale, Stephanie E Tor
Dracut
Associates: Shelmith N. Karimi, David K Mungai, Sheila M Salaverry
Certificates: Alice W Ndungu
Dudley
Associates: Stacy M. Stackrow
East Templeton
Associates: Lisa J. Delorme, Colleen Janice Moran, Courtney Lynn Wentz
Erving
Certificates: Justine N Pottinger
Fitchburg
Associates: Marissa Susan Abell, Nana A Adwubi, Stephanie M Arnold, Mavis NS Barnor, Kayla K Blanchette, Courtney K Bouchard, Emily Morgan Boudreau, Colline D Butler, Shane  Carroll, Carlington C Clarke, Daniel P Clifford, Cassandra E Croft, Aritha  Daniels, Brittany  DuBois, Michael  Erhagbai, Jarelin Gesely Escobar, Christopher William Farmer, Maria Lucia Ferreira, Leah Rose Fletcher, Julie  Fluet, Eugenio Angel Garcia, Eunices  Gonzalez, Elida K Griffin, Leonela A Grullon, Jacqueline Amanda Healy, JoAnna L Heng, Kaylyn  Herold, Kayla J Hickey, Allesandra L Hollenkamp, Joshua L Irfan, Godwill  Karngong, Grace N Kiigi, Vanayda M Knight, Gianna Lucia LaPosta, Patricia J Lillie, Katelyn M Lingus, Nicole M Maldonado, Linda M Martel, Ashley R McKinnon, Yemni T Mendez, Bria R Monette-Harris, John  Moua, Sharon M Nabulime, Alicia  Navarro, Ritchie Alan Nelson, Sevina V Ortiz, Kris J Osgood, Estefanie  Palma, Ashley  Perez, Marymar  Perez Cruz, Nathan A Pierce, April L Quirk, Nataly  Ramos, Brian  Reyes, Faith  Robinett, Eduardo  Rodriguez, Nicolas R Romero, Deanna M Rossi, Megan  Rossi, Rose M Sanchez Pratts, Katherine Judith Sandoval, Samnath  Say, Amy E Shattuck, Stefan M Sicard, Giovani  Soto, Michael  Soto, Augustine J Tetteh-Quarshie, Ashley  Thibault, Skylyn  Torres, Tatiana Vazquez, Crystal A Witz, Staci L Wolski, Fuechee  Yang
Certificates: Vilmarie  Alvarado, Meghgan A Beauvais, Tamu L Brobbey, Michael O Bueno, Christofer  Butler, Salvador  De La Cruz, Matthew J DiPasquale, Jamaal R Dockery, Joseph Michael Favini, Nikita Rose Gilbert, Nicole M Mattson, Kimberly Lynn Mertell, Haley R Mullen, Alicia  Navarro, Sevina V Ortiz, Wilfred  Perez, Yarilis  Perez, Charmaine M Radzewicz, Sylvia  Ramirez, Diosmar  Reynoso, Eduardo  Rodriguez, Stephanie A Santangelo, Tonia M Sheridan-Hamblin, Marry K Sivilaythong, Colleen M Suarez, Augustine J Tetteh-Quarshie, Jessica L Theriault, Monica R Wirickx, Fuechee  Yang
Framingham
Associates: Hanna Gyamfi, Simone M de Souza
Gardner
Associates: Leslie Ann Ackers, Raina  Aiello, Kristin J Anderson, Samantha Mariel Badia, Scott  Batchelder, Benjamin K Blake, Christine C Boisvert, Destiny D Boisvert, Emily A Bradshaw, Taylor M Butler, Chelsea May Caron, Megan E Casteel, Rebekah L Cohen, Ashley Marie Comley, Donald T Connors, Cynthia M Cormier, Elizabeth A Crete, Timothy  Cronin, Harli L Curtis, Rebekkah  Dietz, Wendy A Dobbins, Viclinepon S Duangsay, Brittany A Dufresne, Britnii J Dyer, Acacia A Fisher, Samantha  Gravlin, Jose Manuel Herrera, Erika A Holm, Jessica Noel James, Latisha  Johnson, Nicole Brianna Joseph, Alyssa M Juliano, Shannon M Kelley, Kendyll Marie-William Knight, Lisa K Kowalczyk, Kristina M LaBombard, Samantha JM LeBlanc, Jordan Robert Learmonth, Krista  Lennerton, Anthony C MacKenzie, Douglas  Marroquin, Jessica l McKay, Kaitlyn Marie Mearn, Keith A Melanson, Marguerite Elizabeth Nicholas, Charles M Njaaga, Olivia  Ouellet, Kevin W Oxford, Melissa  Paulhus, Julia R Pitre, Nicholas  Powell, Estephany S Rodriguez, Michael T Sadowski, Lani D Scanlan, Julia N Scott, Tracy J Shackett, LaKeya  Springfield, Jerrika  St John, Deborah-Jean  Strachan, Amy M Tervo, Eva  Tolman-Brown, Laurie  Tucci, Scott  Vieira, Cameron  Walsh, Melissa S Wright
Certificates: Kyle J Blanchette, Christopher T Blouin, Tanya Lee Botelho, Jessica L Cahill, Sadiya M Clark, Ramsey E Clayter, Harli L Curtis, Brittany A Dufresne, Curtis Hall, Lisa K Kowalczyk, Grace Kraft, Elizabeth P LaPan, Angella  Nakanwagi, Lee Ann M Orsalock, Janice  Perez, Emma L Phillips, Sarah E Pierce-Legassey, Kari L Quinlan, Deborah-Jean  Strachan, Nathan A Thibault, Scott  Vieira, Kathleen D White
Grafton
Associates: Jonathan Cheney, Megan Leigh McNeil
Greenfield
Associates: Katherine Newell
Certificates: Katherine Newell
Groton
Associates: Stephanie J Casey
Certificates: Courtney N Monaco
Hardwick
Associates: Cody Allen Braese, Kaitlyn Elizabeth Malin
Harvard
Associates: Jari Squire
Haverhill
Certificates: Jennifer A Koinange
Holden
Associates: Michael E Dodd, Shannon E Drohan, Carolyn M Felicio, Faith Kurtz
Certificates: Cheyanne Elizabeth Rigney
Hubbardston
Associates: Victoria R Allen, Tyler J Charland, Andrew David Como, Gabrielle Rose Deloge, Alison  Germagian, Jessica A Horgan, Andrew Amorntap Horsung, Stevie  LaBelle, Adam James McHugh, Jana Christin Murphy, Amy L Pasakinskas, Mason William Prentiss, Eden  Shaveet, Jareth D Skelton, Lauren  Stohler, Evan  Tucker, Jasmine  Welch
Certificates: Matthew R Brooks, Sheila Marie DeMalia
Hudson
Associates: Lorna Arimboh Tambi
Lancaster
Associates: Nicole Boufford, Stanley Louis Choruzek, Sherry Cutler, Matthew Harris, Haley  Isaacs
Leicester
Associates: Jessika Lyn Little
Leominster
Associates: Donovan A Aboal-Caceres, Samantha  Aviles, Kahlil  Beauregard, Carlotta Y Belle, Samantha L Berry, Brianna C Boulay, Brittney  Brown, Elizabeth A Brown, Guece B Clermont, Karina N Colon, Kimberly P Contreras, Sarah L Costa, Nicholas Robert Crawford, Nellie R D'Albora, Christopher Paul Dagle, Omar  De Jesus, Carrie F DeCosta, Lisa M Doherty, William  Doyon, Samantha L Elliott, Precious E Erving, Mikayla L Esposito, Yolandese  Exceus, Anna John Gamaya, Olivia P Gianakis, Melissa  Gonzalez, Kimberly A Goulston, Galadriel D Hahn, Michael Edward Harris, Felicia D Harwood, Nhat T Hoang, Alana Beth Jones, Dana Raymond Jones, Jennifer E Jones, Lauryn E Kelley, Jocelyn Marley Klein, Julie M LeClair, Rafaela Oliveira Lopes, Taisha  Lopez, Mariaris  Luna, Daniel J Mahoney, Isaac  Michail, Maisa J Moreira, Iddriss  Mutari, Maysha I Peckham, Mark A Ramos, Selena Michelle Ray, Gilbert  Revesai, Felicia  Rice, Maria M Rivera, Kyria M Salgado, Samantha A Seidl, Erika Vanessa Seijo Gonzalez, Isadora  Silva Andrade, Ellen E Smith, Joseph F Sottile, Haley  Szidat, Taylor Lee Thibodeau, Veronica  Valladares, Olga  Vlah, Gemini M Walter, Danielle Elizabeth Waseleski, Jonathan T Wentworth, Kelsi S Whittemore, Letecia Winters
Certificates: Alham  Ajez, Marisol  Alejandro Oquendo, Romolo S Cataldo, Allison M Correa, Denny L Cruz, Omar  De Jesus, Alondra  DeLeon Guimaraes, Ingrid J Del Orbe, Kiana I Delgado, Nelida  Figueroa Lopez, Felicia G Freel, Danielle Faye Johns, Donna M King, Jared Steven Kuczwara, Emily Patricia Lemieux, Taisha  Lopez, Mariaris  Luna, Yamara  Martinez, Isaac  Michail, Marcela C Minas, Iddriss  Mutari, Florisa A Ramos, Elaine C Rice, Karla  Rivera, Teresa  Silveira, Yonaly  Tavarez, Tanairi  Valentin, Autumn L Wendel, Molly M Winand
Littleton
Associates: Haley Lee Saarinen
Lowell
Associates: Vises Horth, Beth Karimi Mwangi, Mamawa Dauretta Sannoh
Certificates: Akua Agyeiwaa Quardson, Stella W Mwangi, Peter W Wangondu
Lunenburg
Associates: Anne M Allan, Hayes J Amaral, Christina J Bernatchez, Meredith A Billiter, Anthony Michael Cintron, Jarrod Mark Haas, Nicole D Ignazi, Bonnie E Logan, Szerena J Moyen-vonRosenvinge, Kamerin P Munroe, Jodi L Peternel, Valerie P Poladian, Amber L Rivera, Mija L Waluck, Lara E White
Certificates: Carter Robert Filiau, Trystan E McFetridge, Gail Mercier, Adam M Nano, Jillian M Smith
Malden
Associates: Taryn K Graybeal
Marlborough
Associates: Courtney R Aulden, Christina L Knox, Jose Saquich, Evangelia S Sunberg, Brenda L Warren
Certificates: Paola Andrea Molina
Maynard
Associates: Andrea K Lontine
Methuen
Associates: Alicia Rose Schiller
Millbury
Associates: Eduardo A Freitas
New Braintree
Certificates: Caitlin R Stevens
New Salem
Associates: Shawnee A Lewis-Phillips
North Brookfield
Associates: Keri-Ann J Harvey, Sara R LeBel, Kyleen Roman
Oakham
Associates: Elizabeth M Mahoney, Aaron Jeffrey Witkos
Orange
Associates: Jennifer M Ballou, Keira Bradshaw, Maris Clement, Matthew Crumbley, Cynthia R Doyle, Benjamin Gilmore, Julia Griffin, Lisa A Korpiewski, Natasha Ledoux, Hillary D Leh, Rachel M Lundgren, Brianna Marsh
Certificates: Cynthia R Doyle, Eliza Graton, Anna M Morin, Gregory Suprise
Paxton
Associates: Kayla A Shabo
Certificates: Nga T Le, Valerie Schiller
Pepperell
Associates: Julia R Overhiser, Rachel Mae Pinney, Shannyn A Pomeroy, Elizabeth A Sappet, William F Stone
Certificates: William Ronzio
Petersham
Associates: Ryan L Lawrence, Rachel K Sexton
Phillipston
Associates: Stephanie Jane Girouard, Kathleen Julius, Tyana Kandi Maki, Brooke Pacheco, Hayleigh D Sundstrom
Princeton
Associates: Christopher M Martin
Royalston
Associates: Kelly E Frazier, Dylan C Hall, Ashley R Sawyer
Russell
Associates: Sherry N Whitman
Rutland
Associates: Courtney A Champlin, Asher A Crane, Katelyn L Kane, Sabrina A Pettigrew
Certificates: Lisa Lange, Laura Teves
Salem
Certificates: Ashley Ann Ferris
Sharon
Associates: Robert Hamilton Davenport Pisarchuk
Shirley
Associates: Matthew D Callahan, Katelin Griffin, Joseph John Holmes, Timothy F Kelly, Sarah Soto
Certificates: Bert A Dawson, Julie M Henderson
Shrewsbury
Associates: Katie E Cooper, Courtney B Hurley
Somerville
Certificates: Alfred Pierre-Noel
South Lancaster
Associates: Khaien B Donawa
Spencer
Associates: Amarilys G Lozada, Elizabeth A O'Mara, Shannon Lynn Wolanski
Certificates: Linda Maher
Springfield
Associates: James N Mugwanja
Sterling
Associates: Cameron Jewett Alden, Miles Robert Gray, Valerie H Maloney, Amanda L Nourse, Neil Rosinski
Certificates: Sirirath J Chanhsy, Christine Wagner
Sutton
Associates: Kristina Nicole Pelletier
Templeton
Associates: Lynnea Joy Anderholm, Devin  Bellis, Cynthia J Bettencourt, Jason  Boski, Elizabeth J Conner, Allison  Cormier, Katherine Iris Goguen, Zoe H Hammond, Timothy Shane Hazelton, Daniel R Martin, Benjamin Thomas May, Jacob Ryan Parent, Shaina R Wallace, Eric Wilson, Sarah E Young
Certificates: Holly S D'Angelo, Angelica Mona De Los Rios, Daniel R Martin, Jonathan K Martin
Townsend
Associates: Jeffrey A Garafola, Dylan B Jones, Julie E LaFleur, John J Lord, Anna Christine Roberts, Rachel L Sullivan, Tiffany Ann Vincenti
Certificates: Kerri Lynn Burton, Pamela M Corbett, John J Lord
Ware
Associates: Leah Downer Trudeau
Warwick
Certificates: Deena Marie LeBlanc, Samantha M Peters
Webster
Associates: Mackenzie Christensen, Esther Gichuhi
West Boylston
Associates: Alex J Gariepy
West Brookfield
Associates: Peter Samuel French
West Groton
Associates: Karen M D'Agostino
West Townsend
Associates: Tyler C Gribi, Emily Seeley, Scot Sullivan
Westminster
Associates: Nicholas R Auffrey, Jared James Aveni, Corey P Boucher, Jonathan Chernoch, Kaitlyn A Gagne, Travis J Martin, Joshua S McDermott, Dillon Thomas Morgan, Nicole R
Skinner
Certificates: Jessica N Goguen, Joslyn Emily Winter
Winchendon
Associates: Madeline M Allard, Brandon William Beals, Lauren  Bennett, Jonathan P Blodgett, Mariah  Boisvert, Kelsey  Bosselait, Philip  Brady, Samantha  Brooks, Ashley E Brunt, Daniel  Caputi, Jaymisen M Carr, Natalie  Chretien, Cayla M Clinkscale, Michel L Cocuzza, Kristen A Cormier, Leslie A Cosentino, Robert W Courtemanche, Melanie  Cranfill, Marygrace  Daly, Joel T DeVelis, Riley  Elliott, Mark T Gagnon, Stephanie J Goodwin, Bridget  Harrington, Becca  Hill, Lindsay K Laporte, Sarah E Larson, Joseph Daniel LeBlanc, Di  Lin, Ryan Patrick May, Brity T Murphy, Trevor Goodwin Page, Iva  Quinn, Kelsey  Schecker, Kristina D Snay, Gordon Dale Tuttle, Jonathan D Zukowski
Certificates: Katherynn R Alden, Cassandra  Anderson, Michel L Cocuzza, Joseph A Duerr, Jana S Egan, Becca  Hill, Jay  Pereira, Yaribeth  Torres
Woodville
Certificates: Karen  Putnam
Worcester
Associates: Aaron A Aikins, Jasson  Alvarado Gomez, Monica  Boafo, Albert J Encarnacion, Judith I Hunter, Joseph K Kum, Lydia Varesa London, Kevin  Lynch, Eliud M Mwangi, John-Mark M Njenga, Opeyemi Sakiru Odewale, Courtney N Paradise, Nga  Pham, Guerda  Pierre, Marta  Szczubelek, Constance  Tazelaar, Jessica B Tobar, Shana L Tobin
Certificates: Akosua O Amoako, Jackline  Dartey, Albert J Encarnacion, Faviola D Flores, Jennifer Marie Gelinas, Buruburu  Kagotho, Jason M Kiragu, Shakesha  Thompson
California
San Diego
Associates: Erika L Stamas
Connecticut
Danielson
Associates: Joseph Francis Lecza
New Hampshire
Fitzwilliam
Associates: Casey R Bedingfield, Julia Josephine Roma McHugh
Certificates: Kenneth F Roy
Greenfield
Associates: Andrea M Langley
Greenville
Certificates: Brianna M McDougal
Hampstead
Associates: Nicole N Reynolds
Hooksett
Associates: Jason M Wright
Jaffrey
Associates: Amanda B Boucher, Shauna M Chamberlain, Rebekah Chiasson, Rebecca J Myott, Katrina K Ung, Paula D Whitcomb
Certificates: Margaret E Hart-Smith, Kaitlynn Shea
Keene
Associates: Ryan J Firmin
Nashua
Associates: Richard  Schaufenbil
New Ipswich
Associates: Tatsiana  Brovina, Clayton W Kuusisto, Aimee Joy Matson
Certificates: Tatsiana  Brovina, Shannon R Kuusisto
Richmond
Associates: Angela M Haynes, Jennifer R Haynes, Margaret M Laplume
Rindge
Associates: Andrew Michael Hoenig, Breanna Marie McAvoy, Gregory A McAvoy, Manzall  Mitchell, Bridget Troy Murphy
Certificates: Jade  Hill, Lee-Ann  Johnson
Temple
Certificates: Danielle R O'Brien
Washington
Monroe
Associates: Helena  Santee