For the first time, Mount Wachusett Community College's annual spring graphic design exhibit was opened to high school students, resulting in two best in show awards in the high school and collegiate divisions, as well as dozens of awards in categories ranging from website, magazine and logo design to DVD cover, portrait illustration and advertising.
The juried exhibit, currently on display at the college through the summer, featured 75 pieces in 14 categories created by MWCC Graphic and Interactive Design students, as well as 25 pieces in five categories created by high school students. The college received more than 75 submissions from students at Oakmont Regional High School, Montachusett Regional Vocational Technical School, and Murdock High School.
"I couldn't be more proud of our students and faculty, and was thrilled to share the design exhibit and awards reception with the students and teachers from area high schools," said Professor Leslie Cullen, chair of MWCC's Graphic and Interactive Design department. "This was our most well-attended, successful opening receptions yet. We hope to expand the show next year to include more high schools."
This academic year, the college revamped its Computer Graphic Design programs in print and web design into Graphic & Interactive Design program, which combines studies in both areas. More than 100 people attended a recent opening reception and awards ceremony, including MWCC GID faculty and alumni, graphic design teachers from Oakmont and Monty Tech and their students and families, as well as MWCC alumnus Robert Parks, who performed on acoustic guitar for the event.
MWCC student Samuel Leveillee of Templeton, won best in show in the college category for his digital photo piece, Let Your Imagination Soar. Leveillee, who is graduating in May and transferring to Hampshire College to pursue a bachelor's degree, also received best in category awards for magazine design, digital illustration, and web & interactive design, as well as honorable mention in the DVD cover category.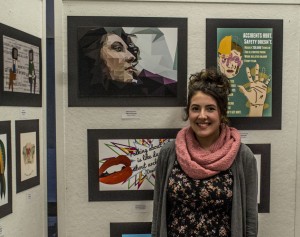 Oakmont sophomore Laurynn Bedard of Westminster won best in show among high school students for her digital self-portrait, which also one best of category in digital illustration."To have art work that was showcased at Mount Wachusett Community College was an incredible honor," she said. "I have never participated in an exhibit that was strictly for the appreciation of graphic design work, but I have participated in other local community art shows that encompassed mixed media art and graphic art. I was very shocked and immensely humbled to receive the Best of Show award for the high school categories. There were so many talented students that submitted fantastic work. I can't express how grateful I was and still am for the award.  I enjoyed the show, and it is a great memory that I will not forget," she said.
"The opportunity to have Oakmont students submit their graphic design work to a local show that was focused on graphic design was awesome; usually that is not the case, said Oakmont graphic design teacher Lawrence M. Szalay. "It was well received by the Oakmont students. They expressed enjoying both the high school and collegiate work that was exhibited. Oakmont students had success and it was truly a great experience for me to witness the pride they have in creating strong graphic design work. The awards and accolades presented to students on all levels in all categories were great."