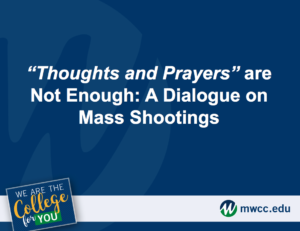 Mount Wachusett Community College held a discussion on school safety in the wake of the country's most recent mass shooting.
"Regardless of where any of us stand on the many issues that surround the mass shootings that have become so prevalent in recent years, these events put many of us in a place of deep examination," said MWCC's Assistant Dean, K-12 Partnerships & Civic Engagement Fagan Forhan who co-hosted the event with MWCC's Interim Vice President of Student Affairs Jason Zelesky.
The discussion, titled "Thoughts and Prayers" are Not Enough: A Dialogue on Mass Shootings, was designed to provide time for everyone to listen to the experiences and perspectives of others in MWCC's community. The discussion was broken into small groups where people were able to discuss how the latest school shooting was impacting them and what could be done to make them feel safer. Additionally, the groups discussed what individuals can do moving ahead from the latest tragedy.
Over 40 students, faculty and staff attended the dialogue.