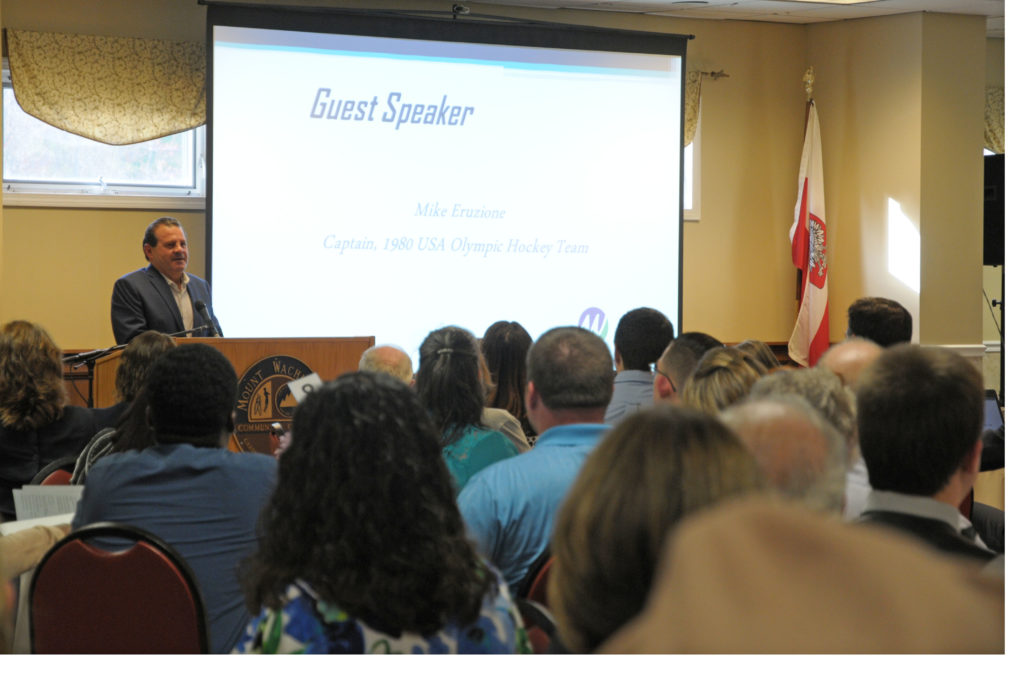 Mount Wachusett Community College celebrated the achievements of 68 students during its annual Evening of Excellence awards event last night.
"I stand in awe of the achievements that you have made both inside and outside of the classroom. Getting good grades is only part of it. You've distinguished yourself to a level that has caught the attention of faculty as well as your fellow students," said MWCC President James Vander Hooven who explained that all the students worked hard to overcome various obstacles to get to this point. "You have earned this opportunity."
The ceremony recognizes student accomplishments both inside and outside of the classroom, as well as in their communities. The ceremony gave time to each student, with faculty members telling a brief version of their story and what prompted them being honored. It became clear that many students balanced not only their school work but their personal lives and other outside obligations.
It is this hard work that guest speaker Mike Eruzione highlighted. Eruzione was the captain of the 1980 U.S.A. Olympic Hockey Team whose success against the Soviet Union and Gold Medal victory at the Lake Placid Olympics inspired many and was the basis of the Disney movie "Miracle."
Although the team's success was dubbed a miracle, Eruzione explained that it was actually built on hard work and dedication. Success doesn't happen as the result of ability, but because of grit and determination. Much like the hard work that all the students put in to achieve their goals.
"This is the end result of your hard work, your determination and your dedication… It's a process. It takes time. It takes work. It takes effort. It takes sacrifices. It's little things that when you add them all up are the reason you are here and successful," said Eruzione.
The following students were honored with awards:
Acton, MA
Young Lan Cho – Best of English 101 – 2nd Place
Ashburnham, MA
Brandt Bodley-Gomes – Biology Curriculum Award, Commonwealth Honors Program and President's Key
Jacqueline Lane – John Burton Award
Lizabeth Velez – Roberts Scholar
Michele Walsky – Judge Moore Awards – Excellence in Writing
Ashby, MA
Brianna DiMattia – President's Key
Nicholas Lutz – Jean Tandy Award
Athol, MA
Kara Champagne – Health Information Management Curriculum Award
Ariadne De Olveira Loss – Commonwealth Honors Program
Caitlin Goodbrake – Liberal Arts and Sciences Curriculum Award
Kateri Stewart – Early Childhood Education Career Curriculum
Ayer, MA
Benjamin Richard – Theater Arts Track Curriculum Award and Mount Observer Scholarship
Barre, MA
Katelyn Jefferson – Elementary Education Track Curriculum Award
Bolton, MA
Peter Hopkins – President's Key
Cambridge, MA
Cheryl Locksley-Grant – Best of College Research – 3rd Place
Chicopee, MA
Matthew Cross – Fire Science Technology Curriculum Award and President's Key
Clinton, MA
Dylan Doyle – James D. Murphy Scholarship
Ariah Miller – John Burton Award and Sandy Signor Award
Katharine Osborne – President's Key, Physical Therapist Assistant Curriculum Award and Best of College Research – 1st Place
Fitchburg, MA
Blake Denmark – Robert Weibel Award
Brittany Gale – Craig Hamel Scholarship
Sean Krieger – Dean's Key
Thomas Moser – Art Concentration Curriculum Award
Stephanie Pope – Best of English 101 – 3rd Place
Emily Robichaud – Alpha Beta Gamma Scholarship
Michaela Valois – Early Childhood Education Transfer Curriculum Award
Brittany Velez – Ellen Daly Dental Hygiene Scholarship
Gardner, MA
Cassparina Carlson – Judge Moore Awards – Academic Excellence, Commonwealth Honors Program and Human Services Curriculum Award
Nicole Leeper – Peter J. Trainor Leadership Award
Andrea Lystila – Melissa Herr Marsh Scholarship
Tristian Myers – Excellence in Mathematics Award
Hubbardston, MA
Matthew Brooks – Computer Information Systems Curriculum Awards and President's Key
Henry Colebrook – Biotechnology/Biomanufacturing Curriculum Award
Lancaster, MA
Howard Chaput III – Aspasia Anastos Award
Leominster, MA
Dominique Berube – Commonwealth Honors Program
Fernanda do Canto Munari – Earth/Environmental Science Curriculum Award
Karim Hamza – Media Arts and Technology – Audio Engineering Concentration Curriculum Award
Aiman Mahmood – Carrie Progen Memorial Scholarship
Tremaine Pinnock – Interdisciplinary Studies Curriculum Award
Yasmine Quartey – Commonwealth Honors Program
Sophia Schlegemilch – Best of English 101 – 1st Place and Best of College Research – 2nd Place
Jacqueline Scribner – Accounting Concentration Curriculum Award
Brittany Waseleski – Art Curriculum Award and President's Key
Autumn Wendel – H. Marilyn Kiosses Scholarship
Lunenburg, MA
Brett Hamel – Commonwealth Honors Program
Northfield, MA
Samuel Pustea – Exercise and Sports Science Curriculum Award
Orange, MA
Branden Burke – Interdisciplinary Studies – Allied Health Curriculum Award
Roger Dirth – Chemical Science Curriculum Award and President's Key
Nicole Wetherby – Graphic Interactive Design Curriculum Award
Oxford, MA
Patrick Meehan – Natural Resources Curriculum Award
Rutland, MA
Chelsea White – Legal Studies Curriculum Award
Shirley, MA
Craig-James Mauro – Carl Tammi Award
Sarah Mello – Commonwealth Honors Program
Sterling, MA
Frances Dunn – Biology Curriculum Award
Templeton, MA
Garrett Dora – Biological Science Track Curriculum Award
Suzanne Eglington – Alpha Beta Gamma Scholarship and Business Administration – Career Curriculum Award
Allison Guthrie – Physics or Pre-Engineering Track Curriculum Award
Townsend, MA
Katie Langone – Nursing Curriculum Award
Westminster, MA
Lisa Ferrara-Caron – Business Administration – Transfer and Commonwealth Honors Program
Corey McGrath – Keith Nivala Award and Criminal Justice – Law Curriculum Award
Winchendon, MA
Christian Rossi Jr. – Engineering and Physics Curriculum Award
Darlene Rossi – Interdisciplinary Studies Curriculum Award and President's Key
Tim Sokhoeun – Commonwealth Honors Program
Worcester, MA
Dielhomane Louisgene-Stewart – Nursing – Evenings Curriculum Award
Chloe Wiseman – President's Key and Medical Laboratory Technology Curriculum Award
Jaffrey, NH
Julia Van Houten – Pre-Law Track Curriculum Award
New Ipswich, NH
Kendra Draleau – Dental Hygiene Curriculum Award
Peterborough, NH
John Curran – President's Key and Nursing – LPN Bridge Option Curriculum Award