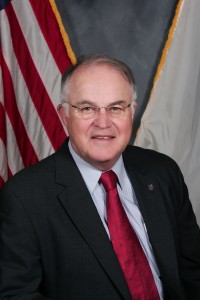 The greater Gardner community could not have predicted the impact that James O. Garrison would have when he relocated to Massachusetts and purchased a struggling manufacturer. From turning the small company around and increasing employment, to his membership on the boards of numerous local foundations, Jim Garrison made a profound impact on the lives of many and his passing marks the loss of a bright light in the MWCC community.
Early in his association with MWCC, Mr. Garrison worked on a program to focus on helping high school graduates get back on track. The program was not successful, Mr. Garrison said, due to a high rate of homelessness among the participants. However, it raised awareness of underlying issues, and the correlation between the importance of early childhood education prior to kindergarten, and academic success later in life. Mr. Garrison understood the school to prison pipeline before it made national headlines.
With this in mind, in 2005, he and his wife, Peggy, donated $1 million to the MWCC Foundation to support stipends for MWCC students in need of childcare, as well as scholarships for students studying early childhood education. The Garrisons also provided additional funding to build the childcare center and preschool on the Gardner campus, which is named in their honor.
"His contributions to the college enhanced the learning environment for our student parents and their children and the vital role the college plays in the community" states MWCC President James Vander Hooven. "I frequently visit the Garrison Center to read to our youngest community members and see the legacy Jim leaves behind in eyes of those children and their hard-working parents. I have witnessed firsthand the difference he has made in many children's and student's lives."
"Jim Garrison made a tremendous impact on our college, in the lives of so many of our students, and in the greater community," noted MWCC past President Daniel Asquino. "His spirit of generosity and willingness to share his time, talents and resources epitomized the essence of what it means to be a caring, engaged citizen."
"Words that come to mind when I think of Mr. Garrison are generous, sincere, humble, insightful, giving, kind and gracious," said Garrison Center Liaison and Associate Professor of Early Childhood and Elementary Education Maureen Provost. "The gifts that Mr. Garrison and his family have given to the early childhood education community are far reaching. Through his efforts and generosity, students have achieved their dreams of a college education, they now have associates, bachelors, masters, and doctoral degrees and work in many facets of early childhood education including childcare, speech pathology, special education, early intervention,  researcher, and many more."
A member of MWCC's Board of Trustees from 2001 to 2014, including four years as chair, the Pennsylvania native developed a passion for education and helping others while earning an MBA from the Wharton School at the University of Pennsylvania. In 2015, at Mount Wachusett Community College's 50th Anniversary, he was given the college's Service Above Self Award. The award recognizes individuals who have made significant contributions within the 29 cities and towns that make up the college's service area.
"Jim was a Foundation board member for more than twenty-five years, and a huge supporter of the college in more ways than I can even express. His gift to build the Garrison Center for Early Childhood Education and for scholarships for early childhood students were absolutely crucial to creating this incredibly successful program at MWCC," Stated Carla Zottoli, MWCC Foundation Director. "Although Jim's generosity was limitless, to me he represented a rare and special kind of man, a true gentleman. Strong and smart, but truly one of the most gentle and kind men I have ever known. I will deeply miss our conversations and his quiet words of wisdom. We can all only aspire to be more like Jim Garrison."
"I was honored to have worked with Mr. Garrison and was so impressed by the way he supported MWCC students with his philanthropic efforts, but also with how instinctively he made the connection and communicated the value that our great community college brings to the region's business community," said former MWCC Board of Trustees Chair and GFA Federal Credit Union CEO Tina Sbrega.
Board member Doug Petersen added, "I will miss Jim. He was always very kind and always had a good story to tell. His leadership and generosity made our community better. He set the standard that the rest us should try to live up to."
"I remember some years ago Chuck Bowles and I were talking with Jim Garrison about funding more scholarships, remembers MWCC Foundation board member Richard Flannagan. "I happen to mention to Chuck what happens to a single parent when we provide money to help with tuition and books, but childcare stops everything? Chuck advised that it would take a miracle. I advised Chuck I was fresh out of miracles. Jim just listened and didn't say much." Jim made that miracle happen at MWCC.
Recognized for his dedication promoting education, health and economic development, Mr. Garrison was also a recipient of the Greater Gardner Chamber of Commerce Citizen of the Year and Business Person of the Year awards; the MWCC Foundation Harold E. Drake Jr. Citizen of the Year Award; Gardner Visiting Nurses Association Make a Difference Award, and Community Health Connections' Community Health Champion Award. Mr. and Mrs. Garrison were recognized with the Heywood Healthcare Community Health Hero Award.
In addition to his service on the MWCC Board of Trustees and the MWCC Foundation Board he also served on the board of the Community Foundation of North Central Massachusetts, the Greater Gardner Industrial Development Corporation and Foundation, the GFA Federal Credit Union Supervisory Committee, the Heywood Hospital Board of Trustees, the Greater Gardner Chamber of Commerce and the United Way of North Central Massachusetts.