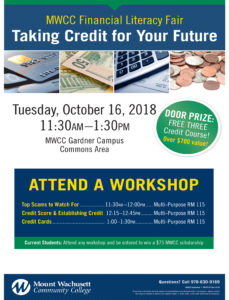 Mount Wachusett Community College will host a public financial literacy fair on Tuesday, Oct. 16 at the college's Gardner campus from 11:30 a.m. to 1:30 p.m.
Although it is hosted by the college's Financial Aid Office, the goal is to provide a greater understanding of personal finances regardless of whether a person is in school or not. There will be three workshops all held in room 115:
Top Scams to Watch For from 11:30 a.m. to 12 p.m.
Credit Score & Establishing Credit from 12:15 to 12:45 p.m.
Credit Cards from 1 to 1:30 p.m.
The event is open to the public, with a door prize of a free three-credit course having a value of over $700.