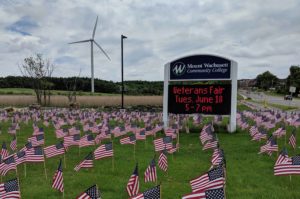 Mount Wachusett Community College will be hosting a free Veteran's Resource Fair with numerous organizations on Tuesday, June 18 with the goal of helping veterans and their families connect with a multitude of valuable resources and organizations in one location.
While it takes place at Mount Wachusett Community College from 5 to 7 p.m. on June 18, the fair is not limited to veteran educational matters. The fair is a gathering of companies, organizations and nonprofits that provide services to local veterans and their families. New additions to this year's event will be free haircuts and a taco dinner.
Some of the expected organizations include ClearCaptions, Employer Support of the Guard and Reserve, Fallon Health/Summit ElderCare, Hanscom Federal Credit Union, MassHire North Central Career Center, Montachusett Veterans Outreach Center, New Start Brain Injury Community Center, North Quabbin Trails Association, Veteran's Mediation, Worcester Vet Center. The organizations will cover topics including legal services, housing and home ownership, financial education and assistance, educational benefits and disability claims.
Registration is encouraged at mwcc.edu/vetfair.