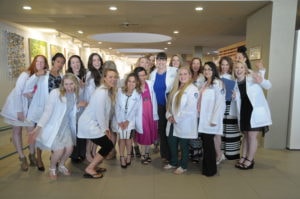 Mount Wachusett Community College will host a hands-on demonstration of dental technology and techniques during a Dental Showcase on Thursday, June 15.
The event will provide an opportunity for visitors to explore whether a career in the dental field, through a degree in Dental Assisting or Dental Hygiene, is right for them. This will take place through a series of hands-on, interactive experience from 3 to 5 p.m. at MWCC's Fitchburg Campus at 326 Nichols Road in Fitchburg.
Among the hands-on activities will be demonstrations of digital dental impressions and digital radiology. Visitors will also be able to attend an information session at 3:15 p.m., talk to current students and faculty, tour the campus and learn about the admissions process. Also involved in the event are dental companies Henry Schein, Dexis Dental and CrossTex.
This event is designed to give visitors a feel for the latest technology in the high-demand dental field, said MWCC's Chair of Dental Education Programs Cindy Cadoret, and allow people to explore whether a career as a dental assistant or hygienist could be a good fit for them.
"I get calls every week from dental offices asking me to post a job and let alumni know that there are job opportunities," said Cadoret.
Attendees are encouraged to RSVP by registering online at mwcc.edu/dentalshowcase, emailing admissions@mwcc.edu or calling 978-630-9110.