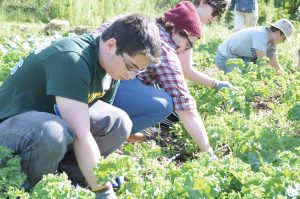 Mount Wachusett Community College will host over 20 area nonprofits for a resource and career fair next Thursday.
"This is an excellent opportunity for students and community members to explore both volunteer opportunities and services within their communities," said Southern New England Campus Compact AmeriCorps VISTA Jana Murphy who organized the event.
Beginning at 10 a.m. and running until 1:30 p.m. on Thursday, Sept. 21, a gathering of area nonprofits will take place at the college's indoor commons. Representatives of over 20 groups will be on hand to discuss both volunteer opportunities within their organizations as well as the resources and services they offer. These organizations include the Gardner Community Action Committee, MWCC Veterans Services, United Way of North Central Massachusetts, Boys and Girls Club of Fitchburg, Habitat for Humanity, the Salvation Army.
The general public is encouraged to attend, whether they are seeking volunteer opportunities or want to better understand the nonprofit resources within the region. The event will take place at the indoor commons at Mount Wachusett Community College's Gardner campus and is organized by the college's Brewer Center for Civic Learning and Community Engagement.