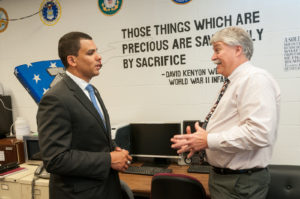 Mount Wachusett Community College will be hosting a free Veteran's Resource Fair with over 20 organizations on Tuesday, June 20 in an effort to connect veterans and their families with services.
The fair is a gathering of companies, organizations and nonprofits that provide services to local veterans and their families. While it takes place at Mount Wachusett Community College's Gardner Campus from 5 to 7 p.m. on June 20, it is not limited to veteran educational matters. According to MWCC's Director of Veterans Services Bob Mayer, whether someone is looking to change careers, overcome a setback or working just to get by, there will likely be a service that can help at this fair.
"This free resource fair only requires a small amount of time," said Mayer. "The time invested could yield dividends over a lifetime."
Some of the expected organizations include the Montachusett Veterans Outreach Center, the North Quabbin Trail Association, Shoulder to Shoulder, Mass One-Stop Career Center, North Central Mass Workforce Investment Board, SAVE of the Massachusetts Department of Veteran Services, VA Vet Centers, VA MOVE, and VA VITAL. The organizations will cover topics including family retreats, legal services, housing and homeownership, financial education and assistance, educational benefits and disability claims.
Light refreshments will be served and registration is encouraged at mwcc.edu/vetfair.