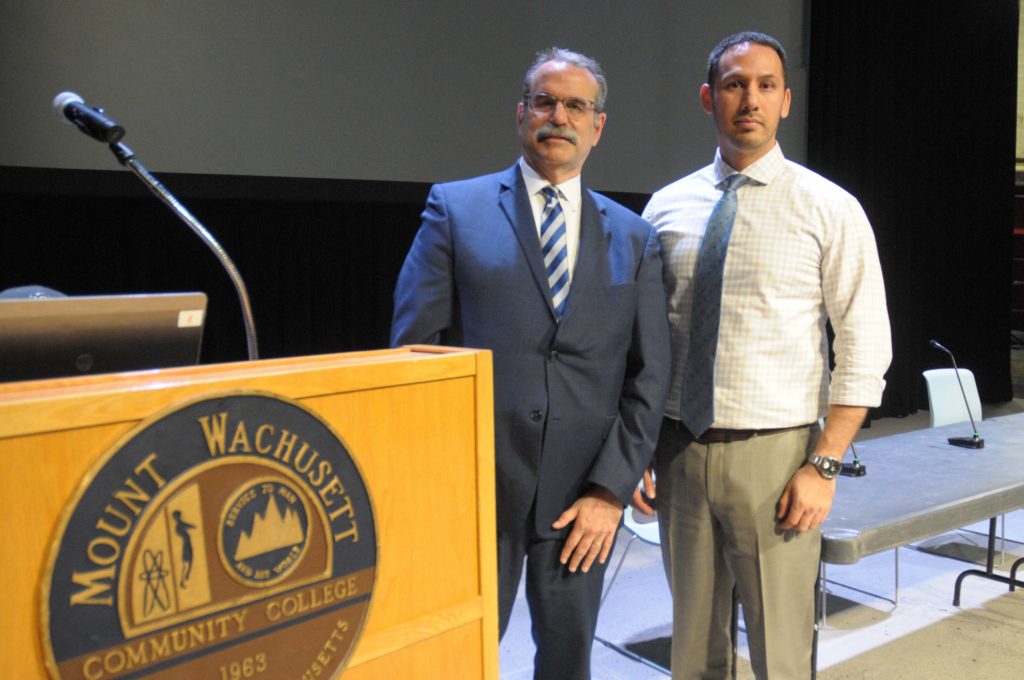 Mount Wachusett Community College's Criminal Justice department hosted a discussion on Wednesday exploring the different facets of gangs from the law enforcement implications and challenges to the difficulties of growing up surrounded by gang culture.
The discussion featured Central District Court Judge Mark Goldstein, MWCC's Vice President of Academic & Student Affairs Paul Hernandez and a police officer who works in a gang unit. The panel was facilitated by MWCC's Criminal Justice Department Chair and former Superintendent of the State Police Reed Hillman. The discussion began by exploring the definition of a gang from a legal perspective and then moved into discussing gangs within social settings and circumstances.
Hernandez spoke about his own experiences having grown up surrounded by gang culture in Los Angeles. Gangs were a part of life for him, with everyone around him involved or impacted in some way. Growing up in this environment hardened him to the point where he did not have a healthy outlook on life, he said, viewing everyone and everything outside of his world negatively. Part of this was a reaction to how he was treated by those outside of his community, being rarely looked at as a complete person with complicated circumstances influencing his life.
"People would seldom look at the circumstances in which I grew up," he said. "They were quick to throw me away."
But he came to the realization that his outlook wasn't sustainable. He also realized that if he was ever going to move on from an area infused with gang culture it would be because of education.
"School was the thing for me. It gave me every opportunity in the past and all my opportunities in the future," he said, explaining everyone needs to find their own way out. "There's no blueprint for people to get out. There's no blueprint for you to succeed."
Judge Goldstein addressed how the judicial branch interacts with gang members. There is a balance that comes into play when a gang member is tried, he said, as the information of the person being in a gang needs to be deemed pertinent to the case and balanced against its possible prejudicial nature. Gang involvement can be brought into a case if it is integral to prove motive or that a larger, joint venture criminal conspiracy was at play. But in those cases a gang expert must be present to testify to the court to establish this integral nature for the case and inform the jury as to information about the gang, he said.
"Just because you're in a gang doesn't mean you have a propensity to commit a crime or a propensity for violence," said Judge Goldstein. "The courts have a balance."
Providing that proof of gang interaction can be very difficult, according to the officer who works in a gang unit and could not be identified as it may impede his effectiveness at his job. Getting the proper evidence to prove to a court's standard that a gang member is guilty is a difficult and dangerous job. It usually means infiltrating the gang or using informants and even then police are usually not able to bring charges for all the crimes they are aware of.
"They talk different. They act different. They have their own code," said the undercover officer as he related how difficult it can be to infiltrate a gang. "I am just an actor."
The discussion closed with questions from the audience. One parent in the audience asked what they should keep an eye out for with their children. The police officer suggested strong parenting, including knowing where your children are and not giving them the kind of downtime that leads to them getting into trouble. Hernandez stressed the need for a strong community and frank conversations with children.