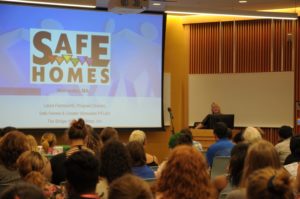 Mount Wachusett Community College's Tea Time Speaker Series held an interactive discussion and presentation titled "Gender Identity: Understanding Identity and Sexuality," on Monday, Sept. 25.
"Your gender identity is your interpretation of who you are," keynote speaker Laura Farnsworth told a room of over 150 students, faculty and staff. "You don't need to be put in a box. In fact, I wish we'd get rid of all the boxes."
Farnsworth is the program director for Safe Homes & Greater Worcester PFLAG with The Bridge of Central MA Inc. During her discussion, she addressed the ever-evolving issues of gender and identity. The discussion takes place at a time when understanding identity and sexuality can be challenging and the language extremely nuanced.
Learning which words or phrases are most accurate, respectful, and useful is an important goal for classroom and workplace interactions. The training examined key terms and concepts for understanding gender diversity, sexual orientation, and for communicating with students and colleagues.
The Tea Time Speaker Series fosters conversation among the college community and greater community on social and cultural issues and awareness. MWCC President James Vander Hooven said he was pleased to have these ongoing discussions at the college and that they aid him in his own journey of lifelong learning.
The next Tea Time discussion, which is open to the public, will be held on Monday, Oct. 30 from 12 to 2 p.m. That discussion is titled "White Privilege? Understanding Systems of Power."