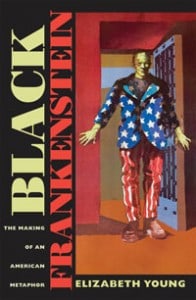 Elizabeth Young, author of Black Frankenstein: The Making of an American Metaphor, will present an author's talk on Thursday, Feb. 25 from 6:30 to 8 p.m. at the Fitchburg Art Museum. The event, sponsored by Mount Wachusett Community College's Humanities Project through a grant from the National Endowment for the Humanities, is free and open to the public.
The theme of this year's MWCC Humanities Project, "Myths, Monsters, and Modern Science: Frankenstein's Legacy," takes an in-depth look at Mary Shelley's 200-year-old novel Frankenstein, or the Modern Prometheus, and its impact in the modern era. For all the scholarship devoted to Shelley's English novel, there has been surprisingly little attention paid to its role in American culture, and virtually none to its racial resonances in the United States.
In Black Frankenstein, Young identifies and interprets the figure of a black American Frankenstein monster as it appears with surprising frequency throughout 19th and 20th century U.S. culture, in fiction, film, essays, oratory, painting, and other media, and in works by both whites and African Americans.
The black Frankenstein's monster has served as a powerful metaphor for reinforcing racial hierarchy and as an even more powerful metaphor for shaping anti-racist critique. Illuminating the power of parody and reappropriation, the book tells the story of a metaphor that continues to matter to literature, culture, aesthetics, and politics.
Young, a professor of English and gender studies at Mount Holyoke College, is also the author of Disarming the Nation: Women's Writing and the American Civic War, and co-author, with Anthony W. Lee, of On Alexander Gardner's "Photographic Sketch Book" of the Civil War.
For more information about upcoming events, visit mwcc.edu/humanitiesproject.