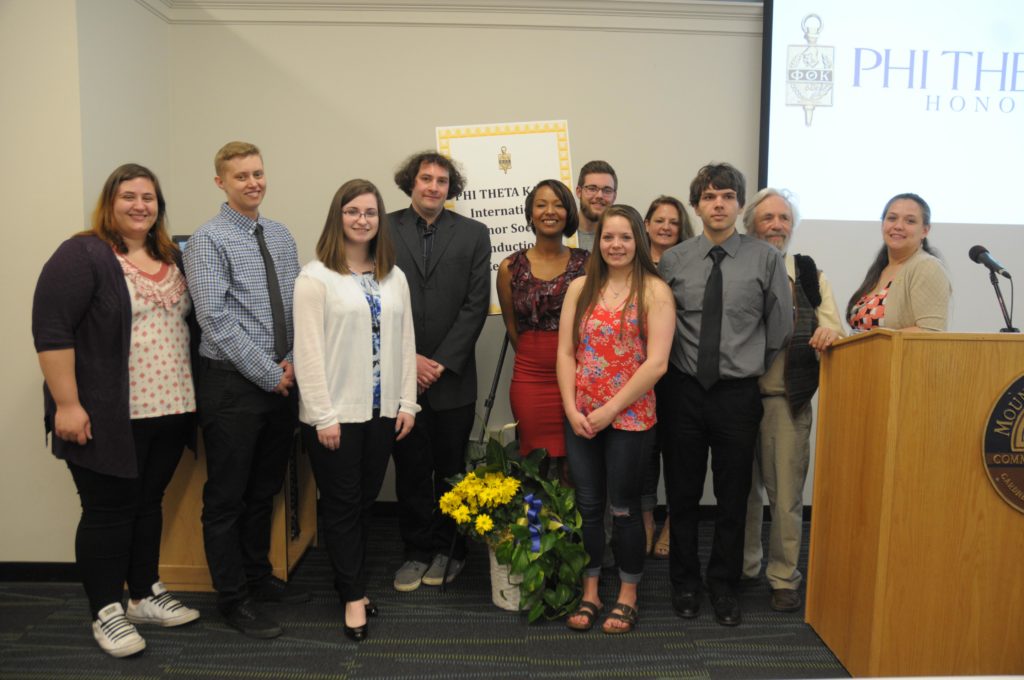 MWCC's Phi Delta Chapter of the Phi Theta Kappa international honor society inducted new members and presented sizable donations to community service organizations last week.
During the chapter's induction ceremony on May 3, the newest members of the organization were inducted into the honor society for high-achieving community college students. In addition to the ceremony, chapter officers and members presented a $750 check to the Gardner Community Action Council and a $750 check to the student-run Students Serving Our Students program at MWCC. The funds were raised at the recent PTK Character Breakfast.
Founded in 1918, Phi Theta Kappa recognizes and encourages the academic achievement of two-year college students and provides opportunities for personal, academic and professional growth through participation in honors, leadership, service and fellowship programming.
This year's new inductees include:
Ashburnham
Sarah White
Athol
Elizabeth Gagnon
Jordan Lapriore
Donna Songer
Ayer
Elizabeth Jones
Jonathan Malloy
Stephanie Whitney
Baldwinville
Rachel Fortier
Bolton
Kayleigh Cavanaugh
Brookfield
Natasha Austin
Dunstable
Alison Ralls
Jeremy Ralls
Fitchburg
Djihane Abdelkebir
Jumily Bourommavon
Nathalie Castro Da Rosa
Nana Curran
Thomas Moser
Gardner
David Belitsky
Brendan Conlin
Brittany Dunn
Andrew Ferreira
Timothy Landry
Jamika Nance-Garcia
Hubbardston
Ava Nordstrom-Learnard
Jaffrey, NH
Margaret Hart-Smith
Lancaster
Evan Silverberg
Leominster
Romolo Cataldo
Erica Frazier
Luke Mann
Anysmarie Santiago
Justin Soulliere
Lunenburg
Derek Cabral
Brett Hamel
Natalia Lamanna
Gail Mercier
Isabel Salvatore
Jillian Smith
Shantel Woodson
New Ipswich, NH
Lisa Nuttall
Norwood
Robert Sorenson
Orange
Terri Alden
Meghan Doyle
Aria Flematti
Pepperell
Samantha Archer
Jordan Hasbrouck
Phillipston
Olivia Howes
Rindge, NH
Olivia Luhtjarv
Royalston
Michael Young
Rutland
Hannah Greenwood
Shirley
Sarah Mello
Shrewsbury
Shivangi Patel
Spencer
Kasey Kirby
Sterling
Kelly Devillers
Templeton
Timothy Cosgrove
Townsend
Dan Baboci
Ross Cote
Kaitlyn Fales
Alexa Nogueira
Melissa Senecal
Westborough
Zackery Tram
Westminster
Katelyn Coleman
Marco Giannunzio
David Mei
Samantha Shippell Stiles
Winchendon
Webster Batista-Lin
Molly Garno
Michael LeBlanc
Jacob VanHillo
Worcester
Joyce Amankwah