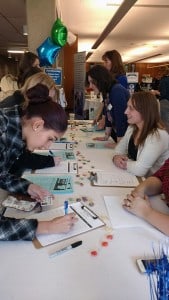 Thirty five companies and organizations participated in Job Fair 2016, held at MWCC's Gardner campus on March 30 and sponsored by the Career Services/Experiential and Service Learning Department. The event provided students with an opportunity to explore career options and learn about job openings in a diverse range of fields.
Coordinator of Career Planning and Placement Patricia Brewerton said she was delighted with the employer support as well as the number of students who benefited from the fair. More than 250 students and visitors attended.
"The job fair provides an optimistic job outlook for students and it attracts a wide range of companies offering job openings for our students. Some students report having interviews already scheduled for next week. I've also heard encouraging and optimistic feedback from employers that our students are enthusiastic, dressed for success, well prepared, and have the courage to approach the tables and introduce themselves," she said.
There were full-time, part-time, temporary and summer positions available from a variety of employers including ARC of Opportunity, Athol Savings Bank, Barton Associates, Bemis Worldwide, Cumulus Media, the Fitchburg Police Department, GAAMHA, GFA Federal Credit Union, Great Wolf, Home Depot, LUK, Mass Life Sciences, Masy Bioservices, Mutual of Omaha, Nouria Energy, Perkins School, Remedy Staffing, Seven Hills, the Bridge and the Worcester County District Attorney's office.