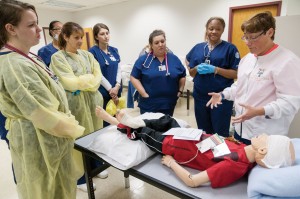 Labouré College and Mount Wachusett Community College are partnering to support the continuing education of local nurses. The colleges have established a transfer agreement providing licensed practical nurses (LPNs) graduating from Mount Wachusett Community College a pathway to earn their Bachelor of Science in Nursing (BSN) from Labouré College and obtain licensure as registered nurses.
Providing working nurses with a flexible, high-quality baccalaureate education has been the goal of Labouré College of Milton since the launch of its RN-BSN program in 2009. Labouré's RN-BSN is offered in a hybrid format: courses are mostly online with two to three on-campus meetings per semester. Students find that this format provides the flexibility of online learning, while fostering important connections with their RN classmates as well as with their professors.
"A baccalaureate education builds on a strong nursing foundation and emphasizes leadership, critical thinking, and safe patient care. The BSN degree has become an entry level credential in many area hospitals, and we want to make sure our graduates have the chance for success," said Al DeCiccio, Vice President of Academic Affairs for Labouré and a member of the team that orchestrated the agreement.
MWCC's Practical Nursing certificate program provides short-term education leading to a rewarding healthcare career and prepares students to continue for a bachelor's degree.
"This is a wonderful opportunity for graduates of our practical nursing program," said Eileen Costello, Dean of MWCC's School of Health Professions, Public Service Programs and Social Sciences. "Mount Wachusett Community College encourages all of its graduates to participate in lifelong learning. By providing LPNs the means of obtaining RN licensure and a BSN degree though this articulation, we are supporting our state-wide initiative of seamless academic progression for nurses at all levels of education."
The colleges will continue to review this collaboration annually to make sure the agreement benefits students. Both institutions have agreed to share data and to collaborate on new theories and best practices for student success.
To learn more about this agreement, please visit laboure.edu/academic-programs/articulation-agreements or call the Labouré College Office of Admissions at 617-322-3575 or admissions@laboure.edu, or contact the MWCC Office of Admissions at 978-630-9110 or admissions@mwcc.mass.edu.