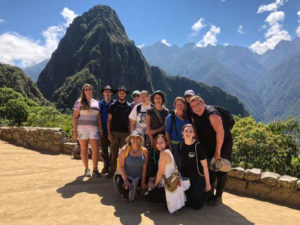 Mount Wachusett Community College will soon provide students the opportunity to study abroad while increasing the focus on international studies as part of a new program made possible by a U.S. Department of Education Undergraduate International Studies and Foreign Language Program grant.
"I am pleased that we will be able to offer this tremendous opportunity that is usually associated with four-year schools. Understanding your place in the world is an integral part of any education. This new international study abroad program will further prepare our students for an increasingly global society," said MWCC President James Vander Hooven. "I am proud of all the hard work that went into securing this grant and committing to carry this program forward for years to come."
The two year project will be fully funded at $349,940 ($174,970 per year split between the college and the department of education). Part of the funding will be used to launch a sustainable study abroad program at the college. This program will offer one faculty-led short term study abroad trip a year. Students will study with a professor ahead of time in order to learn about relevant topics. Then they will travel with that professor for a duration of one to two weeks. Most of the travel expenses will be included as part of the class, including flights and transportation, hotels, destinations and excursions, and many meals.
This model, said MWCC's Dean for the School of Liberal Arts, Education, Humanities, and Communications Laurie Occhipinti, allows students to directly apply their learning to their travel. After they return, they will prepare a paper or other final project to reflect what they have learned.
"In nearly every field, employers are looking for candidates who have a global and intercultural understanding and who can interact with people from diverse backgrounds. This kind of programming helps students to be leaders in their chosen fields. It also helps broaden students' perspectives and experiences in ways that will enrich their personal lives and prepare them to engage in their communities as informed citizens," said Occhipinti.
This model was picked to make the experience as accessible as possible for the school's students, said Occhipinti. The travel itself is short enough to fit in around work and family obligations, she said, and for those without extensive travel experience doing so with leaders they know will make the trip less stressful and more rewarding.
"Many of our students come from families of modest means. They may not have had the opportunity to travel and to see more of the world. Their time in college may, in fact, be one of the only times when they can take the time and the space to have this kind of an experience," said Occhipinti.
The program was developed in conjunction with Brewer Center Director Shelley Errington Nicholson and MWCC's Associate Dean of Students Greg Clement who have led a short-term trip each summer for the last three years. They have traveled to Costa Rica and Peru, interspersing cultural exchanges and service-learning experiences into their seven to 10 day trips. Nicholson said the length of these trips made the travel accessible to a wide array of students and gave them a perspective that could not be gained without leaving the country and seeing things in person.
"It is important for students to understand what it means to be a good global neighbor. Interacting with those who live in other cultures takes students out of their bubble and gives them a different perspective or lens to utilize when examining themselves and our own country," said Nicholson.
The new program will not only create a study abroad opportunity, but infuse international studies content into 12 courses across different areas of the college. The goal of this inclusion is to engage a wide array of students with diverse perspectives and a range of views that will generate debate on world regions and international affairs. The enriched curriculum helps MWCC as an institution to be a leader in the region, cultivating graduates who better understand the world and bring that perspective to bear on opportunities and challenges in our communities, said Occhipinti.
"There is no question that we are living in an interconnected world. Culture, politics, the economy – they all transcend national boundaries. For students to have an understanding of the ways in which their lives and their communities are influenced by global trends and intercultural patterns is essential. Having this knowledge and exposure prepares students for success as professionals and for engagement as citizens. It helps them to move their lives, their communities, and our region of north central Massachusetts forward," said Occhipinti.
The first year of the program will focus on planning, including logistical infrastructure, curriculum development, and professional development for faculty. The second year will include a faculty-led study abroad program in Peru.